13-Year-Old Girl Arrested For Pointing Her Finger At Fellow Students Like A Gun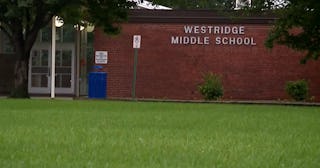 Eyewitness News WEHT WTVW/Youtube
The police chief said after the student made a finger gun motion at her classmates, students said they were afraid of her
In Kansas, a 13-year-old female student was arrested and charged with a felony after she made her fingers into the shape of a gun and pointed them at fellow students. The incident took place at Westridge Middle School in Overland Park, Kansas on September 18th.
Frank Donchez, the Overland Park Chief of Police described the incident to Buzzfeed News, saying the student was asked by another student to point out "five people you would kill." The student then pointed her hand, which was in the shape of a gun, at those students before pointing her fingers at her own head. After the incident took place, several of the students reported the incident online through the Shawnee Mission School District's website which allows students to report bullying anonymously.
After receiving the reports, Westridge Middle School principal Jeremy McDonnell interviewed the 13-year-old student. Then, the school resource officer was contacted.
Donchez said he could not comment on the student's prior disciplinary history due to the fact that she's a minor, but said the child was not simply arrested simply for making a hand gesture.
"Victims in this case were genuinely concerned and fearful of this individual," he said. "When you combine that with the history that we're aware of, and the students are aware of, when you combine all that and that these individuals were genuinely in fear, that's why the arrest was made."
The student is now facing a criminal threat charge. She has also been taken to a juvenile detention center. Her grandfather, Jon Cavanaugh, who lives in California, spoke out. He says his granddaughter could face up to a year in juvenile detention and told the Kansas City Star he's worried about her future as a result of the recent events.
"I think that this is something that probably could have been handled in the principal's office and got completely out of hand," Cavanaugh said. "She was just mouthing off."
While there's a lot of speculation about why the child was arrested and not just reprimanded, the police chief is not backing away from his stance, saying that it was clearly a preventive measure in this case.
"I'll take the heat all day long for arresting a 13-year-old," Donchez said. "I'm not willing to take the heat for not preventing a school tragedy."
He also refuted reports that the student was handcuffed in the school and "paraded" out by officers. He said she was handcuffed outside of the school for her own safety as well as the safety of the arresting officer.
There have been several other similar incidents across the U.S. where students were suspended or penalized in some way for making their hand into a gun and pointing it at others. However, this case differs due to the fact that this young student was handcuffed and arrested. This is also the first incident of this nature to result in a felony charge.