14 Must-Haves For Moms Who Hate To Cook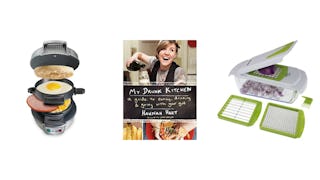 walmart.com
Before having kids, I hated to cook. Like HATED it. But now that I'm a mom, I've realized how fulfilling it is to provide meals for my family. Hahahaha. Kidding. Cooking sucks even more now.
So here's a list of must-haves for moms like me who detest cooking, but realize that their family must, in fact, eat to live.
Most moms already have a crockpot, and even if they don't, it's time to jump into the 21st century and enjoy the time-saving magical dinner maker called the Instant Pot. This one's a 6-qt size and is also a programmable pressure cooker, slow cooker, rice cooker, sauté, steamer, and warmer.
Restaurant gift cards like this one are perfect for busy moms who hate to cook since they can use them at a slew of kid-friendly restaurants including Yard House, Olive Garden, and Cheddars.
3. A breakfast sandwich maker (because who doesn't love a breakfast sandwich? No one, that's who.)
Breakfast sandwiches are God's gift to Saturday mornings. But unless you cart your ass to a diner, you need to make them at home. And that can suck. Unless you have — tada! — a breakfast sandwich maker. And your life is instantly better.
Another time and mess-saver is this fun little gadget that makes 7 mini-pancakes and/or 7 eggs. With this non-stick flippable silicone mold, breakfast is super easy to make and comes out pretty too.
According to reviews, My Drunk Kitchen cookbook "may not be your go-to guide for your next dinner party, but it will make you laugh and drink," and that's the kind of cookbook we can get behind.
6. A rice cooker (the Instant Pot's favorite cousin)
This Aroma 6-cup pot style rice cooker uses one-touch operation, so it's easy to use (and it's super easy to clean too). You can make your main dish in your Instant Pot, your side dish in this handy kitchen gadget, and voila! Dinner is made and there are no crusty bits of food to scrub off your stove.
7. Meal Kits (A.K.A. the answer to my kitchen prayers)
This takeout kit includes all the ingredients needed to make four servings of Pad Thai, but other kits are available from German Beer Garden Spaetzle to Argentinian Empanadas. Your family will think you are Betty Freaking Crocker after this box of goodies arrives on your doorstep.
If you're looking for a gift idea for a mom whose "cooking" usually involves pulling up the local Chinese food restaurant on her phone and ordering in, this takeout ornament would be a fitting stocking stuffer.
If you're like me, most of your "menus" are on the restaurant's website, on your phone, or in your head because your family orders the same damn thing every week. But if you do like hard copies of menus, this adorbs box to keep them in would be a cute addition to your kitchen.
Moms who hate to cook probably only do it once or twice a week and have a ton of leftovers. So having quality food storage is key. This Snapware 24-piece food storage set is a personal fave because it includes containers in various sizes, and my kids can easily snap and unsnap the lids, which means less work for me.
If you hate cooking, I'll venture a guess that you probably aren't a big fan of firing up the entire oven. But this Black & Decker toaster oven will quickly and easily toast up those bagel bites or chicken nuggets your kids love and not make your kitchen 800 degrees.
Chopping up onions and crying into your sleeve is so so fun, amiright? No. It is not. Which is why this Freshware chopper is a must-have for moms who hate being in the kitchen. It chops all your fruits and veggies and cheeses in ONE SWIFT MOTION and collects all the bits for you right there in a plastic container.
As much as I love scrubbing raw chicken off of a wooden spoon, and man do I love it, having silicone utensils, brushes, spatulas, and tongs does make the cooking-hating mom's life easier. They don't stick, they don't melt, and they clean easily. This 10-piece set comes in bright, pretty colors too.
Hands-down the most annoying thing after cooking a meal that no one eats is having to hand-wash shit. Non-stick, dishwasher safe pots and pans like this T-fal 12-piece set are must-haves for moms who'd rather be doing anything in the world but scrubbing crusty egg bits off of a fucking skillet at 8:00 at night.
So try out these cooking "hacks," which aren't really "hacks" because you still have actually make dinner happen but at least your dinner will be fun. Or your family will be impressed. Or you'll be drinking wine while you do it per the cookbook author's instructions. And once dinner's made, can we come over? Our kids are starving.
We are a participant in the Walmart.com Affiliate Program and may earn fees by linking to Walmart.com and affiliated sites.
This article was originally published on