14-Year-Old Girl Wins Prize For Finding A Possible COVID Cure
by Julie Scagell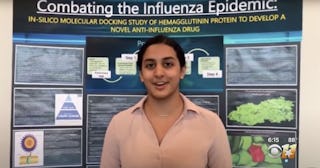 CBSDFW/Youtube
Chebrolu won the 3M Young Scientist Challenge with her invention
An eighth grader just won the 2020 3M Young Scientist Challenge for finding what scientists believe may be a potential cure for COVID-19.
According to CNN, Anika Chebrolu, 14, used an in-silico methodology made through the use of a computer, and was able to find a molecule that can "selectively bind to the Spike protein of the SARS-CoV-2 virus," 3M said. "The last two days, I saw that there is a lot of media hype about my project since it involves the SARS-CoV-2 virus and it reflects our collective hopes to end this pandemic as I, like everyone else, wish that we go back to our normal lives soon," Anika said.
Not only did Chebrolu potentially find a cure for the deadly virus that's killed over 1.1 million people globally according to Johns Hopkins University, but she's also won $25,000 in prize money.
The Texas native said she initially entered the competition with a project focused on finding a cure for the influenza virus after she was infected with the flu last year. That invention used the same in-silico method that she eventually used for the coronavirus. Chebrolu said after researching the 1918 flu pandemic and understanding how many people globally die from the flu even with a vaccine, she became even more determined with this latest pandemic to find a cure.
"I have always been amazed by science experiments since my childhood and I was drawn towards finding effective cures for Influenza disease after a severe bout of the infection last year," Chebrolu explained in her website profile. "After spending so much time researching about pandemics, viruses and drug discovery, it was crazy to think that I was actually living through something like this."
She continued: "Because of the immense severity of the Covid-19 pandemic and the drastic impact it had made on the world in such a short time, I, with the help of my mentor, changed directions to target the SARS-CoV-2 virus." Her quote on the website: "Never stop asking questions."
"Anika has an inquisitive mind and used her curiosity to ask questions about a vaccine for Covid-19," Dr. Cindy Moss, a judge for the 3M Young Scientist Challenge, told CNN. "Her work was comprehensive and examined numerous databases. She also developed an understanding of the innovation process and is a masterful communicator. Her willingness to use her time and talent to help make the world a better place gives us all hope."
In 15 years, Cherbrolu wrote that she'd like to be a medical researcher and professor. We're pretty sure this young woman will achieve any goal she sets her mind to.
Kids are amazing.
Information about COVID-19 is rapidly changing, and Scary Mommy is committed to providing the most recent data in our coverage. With news being updated so frequently, some of the information in this story may have changed after publication. For this reason, we are encouraging readers to use online resources from local public health departments, the Centers for Disease Control, and the World Health Organization to remain as informed as possible.
This article was originally published on