15 Must-Haves For An Amazing Family Movie Night
by Team Scary Mommy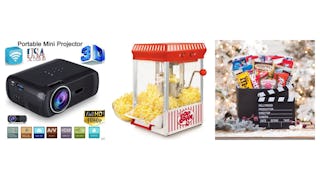 walmart.com
Okay, so we can't hit up happy hour for sushi and cocktails anymore now that we are parents, but you know what? Friday nights are still fun, only in a different way. Especially if you have a tradition like family movie night. You don't need much—just some warm blankets, unhealthy snacks, and a movie everyone can agree on. But if you'd like to go all-out and rock some epic cinema nights with your fam, check out our list of must-haves.
The first thing your family needs to do before setting up movie night is round up their comfiest, warmest blankets—like this oversized velvet plush throw WITH COZY FOOT POCKETS. (*moves this item to top of Santa list.)
Your family may want to snuggle all together on one couch. And you may even start the movie that way. But inevitably, someone will end up on the floor, needing a comfortable and supportive pillow like this adorable Trolls "Poppy fields" backrest.
A movie night is really only complete when you're dressed for the occasion. These glow-in-the-dark Star Wars pajamas will be a hit with your kids (and illuminate the room during the scary parts!)
This plush sequin mermaid tail throw will be a favorite addition to your kids' movie night (you might want to get more than one, though, because they'll probably fight over it).
You know you're going to make popcorn, so why not add this nostalgic popcorn maker to your family movie night decor? And you'll score "cool parent" points for being retro.
Another throw-back is this 4-pack of Jiffy Pop that you cook on the stove, like we when we were kids. Your family will love the authenticity of making the original Jiffy Pop and will get to see what life was like before microwaves!
7. Popcorn buckets (for the complete movie theater experience)
The final piece to the "popcorn" puzzle for your family movie night are these theater-like popcorn buckets. Just fill 'em up, sit back, and enjoy the show.
Comfort is key for family movie night, and with these slippers you can be cozy from head to toe.
Okay, now that snacks are in order, what about drinks? You want to do movie night right, but you don't want soda spilled all over your furniture. So these handy, re-usable snap on lids with straws let your kids have their fun drinks and your couches remain un-sticky.
I mean, anyone can turn on the TV and pop in a movie. But how many people project them on a giant screen? Maybe even outside? With this projector, you could become a legend among the parenting circuit.
However, you need either giant white wall or a screen like this one to go with your new projector. With hanging straps or an optional leg kit to add, this screen can be set up anywhere your kids want to be.
We know lots of people can do movie night with a quick download, but if you're still a DVD family, Paddington 2 is a good buy as it was labeled as the #1 movie of 2018 by Rotten Tomatoes. Other big hits include Incredibles 2, Black Panther, and Won't You Be My Neighbor.
Another route is an old-school choice, like the holiday-themed Polar Express, A Charlie Brown Christmas, or Elf, just so our kids know how good movies of the past were too.
If the idea of putting all this together seems overwhelming, try a movie night box like this one that does a lot of the work for you. You just need to add the warm blankets, couch, and bring your family.
The fun doesn't have to end with the closing credits. You can keep the feel good vibes going with this Movies Trivia Game.
Family movie nights are an easy way to bring everyone together after a long week of fighting over homework and who forgot to flush the toilet. In the end, you all snuggle up, share some snacks, and get lost in the magic of cinema for a couple hours. And when your child falls asleep on your arm just before the credits roll, you remember that yeah, you might miss your happy hour days, but you wouldn't trade these Friday nights for the world.
We are a participant in the Walmart.com Affiliate Program and may earn fees by linking to Walmart.com and affiliated sites.
This article was originally published on