Here Are 15 Opinions Babies Have About Tasting Real Food
by Team Scary Mommy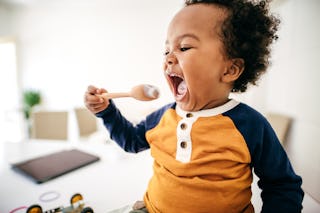 Healthy yogurt and toddler
Babies sure have some big opinions. I love how, when we're new parents, we think our job is going to include deciding what our little ones are going to eat, wear, and do. Joke's on us, though. Tiny humans are the most opinionated species on the planet, and they influence everything we do as parents. They're basically #infantfluencers. They tell us what's hot or not.
So, what do these #infantfluencers think is hot when it comes to food? We asked Scary Mommies to tell us what's trending on their babies' plates. Here's what you shared.
1. One Serving Is Never Enough For True Foodies.
2. Clearly This Baby Knows His Stuff.
3. A Delicate Palate Is a Universal Foodie Trait.
4. Even #Infantfluencers Have Their Limits.
5. Well, Where Else Would He Put It?
6. There's A Thin Line Between Human Garbage Disposal And Foodie.
7. Is There Any Other Way To Let People Know You're Eating?
8. A Baby With International Taste.
9. Obviously They're Used To Fine Dining.
10. Goals.
11. Same, Kiddo. Same.
12. It Runs In The Family.
13. Your Job Here Is Done.
14. He Gets It From His Mama.
15. This Mom Is Living the Dream.
#Infantfluencers are always in their feelings when it comes to food. Sure, they may be tiny, but in their own way, our babies are just like us — liking what they like and sharing what they don't. And as their parents, we're their captive audience. It's good to know that babies, for the most part, are interested in the food that's best for them.
Beech-Nut® Naturals is made with real ingredients, gently cooked to preserve color, flavor, and nutrients. Perfect for all your little #infantfluencers! When your baby is starting solids or looking for new flavors & textures, look for Beech-Nut®'s real fruits & veggies in jars, pouches, and snacks!
This article was originally published on