15 Ways To Keep Your Husband From Banging The Nanny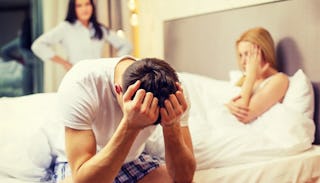 It's an epidemic. Nanny-banging. There seems to be a recent outbreak of famous men whose already strained marriages have fallen to pieces because they got the bright idea to schtupp the babysitter. Hmm, Ben Affleck and Gavin Rossedale, did you forget how shit went down for Jude Law when he got it on with his kid's nanny?
I get personally wound up when I hear stories of guys like Ben and Gavin who are potentially, allegedly (which means definitely) fucking the nanny. It's shitty enough to cheat on your spouse, but don't do it with the person in whom you've trusted your children's safety and well-being. It's not that hard to find good sex. It's really hard to find good help. So if you're going to be a dick and cheat where you eat, do it with a replaceable staff member like the pool guy or the manicurist, not the person who's supposed watch the kids this Saturday so I can see the 7:30 showing of "Antman."
As a female and a mom, I've tried wholeheartedly not to subscribe to the prevailing notion in nanny hiring that tells moms not to hire good looking women as nannies. I've thought, "I'm secure in my marriage and I trust my husband so who cares who's in my house?" And then I hired one moderately good looking nanny, Gigi the French Moroccan girl who had a nicer can than I do, and she tried on all my clothes, got in my bed, and assumed my husband would join her all because he had once innocently told her, "You look nice."
While my husband was flattered, he wasn't interested and Gigi was sent packing. But it did show me that it's not my husband I need to worry about, it's the young, impressionable babysitter who thinks someone is in love with her because he told her she looked nice with the same passion he might show for his mother, the mailman or the pizza delivery guy.
So, ladies, it's important that you understand the nanny-banging epidemic and how you can avoid it spreading to your home. First and foremost, don't hire a hot nanny. Your hubs could only have eyes for you and your marriage could be the stuff other couple's dream of, but still, who wants a girl with perky tits and her labia slipping out of her cut off jean shorts hanging out all day? I'm not saying your nanny has to be ugly, but at the very minimum she should be required to have no confidence.
Once you've hired the nanny equivalent of Joan Cusack's character in "Sixteen Candles," here's some other ways to keep your husband from saying, "Let's do the sitter!"
1. Have the nanny bathe your children; don't let her bathe your husband.
2. Avoid the words "threesome" or "three-way" with your nanny.
3. Ask your nanny to buy your children's toys. Do not ask your nanny to buy your sex toys.
4. Invite your nanny over when your husband gets the bright idea to Dutch oven you after taco night. He'll seem infinitely less attractive than he does during the five minutes she sees him every day.
5. When you ask the nanny to sleep over so you and the hubs can stay out late, make sure she understands sleeping over does not mean in your bed.
6. Politely explain to the nanny that "we're going out tonight" does not mean her.
7. While interviewing a potential nanny, do ask her favorite things to do. Do not ask her favorite positions to do.
8. Never hire a nanny whose resume leads with photos from her bikini modeling days.
9. When your nanny can't stop laughing at your husband's "hilarious" joke, remind her it won't be so hilarious the 73rd time she's heard it.
10. Remind your nanny that her job requires a uniform and that uniform includes a bra.
11. If your nanny asks to leave early to get to the tanning salon before the place closes, ask her to stay late. Offer overtime if needed.
12. Don't hire a nanny who went to a good-looking-person college like Arizona State or anything in South Florida.
13. Don't marry Ben Affleck.
14. Don't marry a dick.
15. Don't take your nanny on your family's last-ditch vacation to save your marriage. Two's company, three's a divorce.
This article was originally published on