15 'Force Of Nature' Inspired Baby Names
by Rita Templeton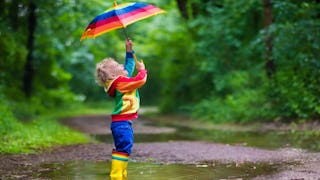 FamVeld/Getty Images
Weather and kids: both can dictate your plans, change from sunny to tempestuous at the drop of a hat, have a tendency to get a bit blustery, and can be calm and enjoyable or turbulent and destructive. Sometimes all in the same day.
When you think of it that way, naming your little "force of nature" after a weather condition doesn't seem like such a weird idea, does it?
You could always choose the traditional weather name, Rain (or, like Kylie Jenner, kick the intensity up a notch with Stormi), but we're forecasting that these alternatives are going to be hot.
This is literally the Spanish word for "breeze," but the "-isa" suffix makes it sound so much like a name (Elisa! Louisa!) that it's a totally wearable option for a little girl.
Don't get her confused with Suri; this one's pronounced suh-RAY (the "ee" ending is like the double E in Renee), and it's the Thai word for "sun."
Though the etymology of this name is difficult to pin down with 100% accuracy, many sources say it's of Persian origin and means "wind." But hey, even if it were something totally different, it's still a gorgeous name. And your little Alizeh will no doubt still be a bit long-winded when she tells you a story, no matter what her name means, right?
This short and simple, but undeniably feminine name is actually the Welsh word for "snow." It's pronounced eye-ruh, and is a subtle nod to the cold weather, whether little Eira is a winter baby or just a future Frozen fan. And this name provides a bonus meaning for anyone hoping to raise a doctor; Eir was the name of the Norse goddess of healing.
Pronounced so-LAY, this is the melodic-sounding French word for "sun" (and also the name of "Punky Brewster" actress Soleil Moon Frye, in case you wanna add a layer of '80s nostalgia to your baby name).
This unisex word name is packed with positive connotations. First of all, there's nothing more refreshing than a light breeze. Second, someone with a "breezy" personality is laid-back and self-confident. And third, the word itself is synonymous with something easy and effortless — so maybe by virtue of naming your kid Breeze, their upbringing will be a snap. (Hey, a parent can hope!)
When you give your child a name this happy and bright, there's practically no way they can turn out anything but. It's a more direct and obvious tribute to everyone's favorite weather than Soleil or Suree, and fitting for either a boy or a girl.
The name Rainbow is on the up-and-up as parents turn increasingly to nature names. It works for either gender, has the possibility of nicknames such as Rain, Rainy, and Bo — and could be a heartwarming (and literal!) tribute to a "rainbow baby," i.e. a baby born after a previous pregnancy loss.
The dictionary definition of zephyr is "a light, gentle breeze." (It's derived from Zephyros, the Greek god of the west wind.) As a bonus, this one can be shortened into the cool-kid nickname Zeph.
A word name, obviously, that's suitable for both boys and girls — and this one could have the added element of paying literary homage to Robert Frost, one of America's most celebrated poets.
Meaning "cool breeze" in Polynesian, this name possesses a laid-back vibe (and a positive association with a certain hunky actor, which never hurts).
A Hebrew name meaning "rain" or "dew," this one is simple and straightforward. Though used mostly for boys, it could definitely fall into the unisex category. (But if you want a decidedly more feminine-sounding version for your little girl, try Talia.)
Thanks to its associations with the Biblical strongman, this name conveys strength and power — but it's derived from the Hebrew word "shemesh," meaning "sun."
Another bright pick, this one's a diminutive of Helios, which was the name of the Greek god of the sun. Wearing a crown of sunbeams, he was said to drive a chariot across the sky each day, delivering sunshine as he went.
It sounds like it might have something to do with light — and it could, as in "luminous" — but it's also the Finnish word for "snow." And considering a similar-sounding name, Luma, is now officially a celebrity baby name (MTV reality stars Catelynn and Tyler Baltierra recently named their daughter Vaeda Luma), we look for this sound to enjoy a bump in popularity.
The weather is a force that changes our lives, both subtly (like dictating what we're going to wear, or whether our outdoor events have to be indoors) and dramatically (like hurricanes and tornadoes leveling entire communities). And so are kids. Whether their personalities are warm as the sunshine or as tempestuous as a winter squall, naming them in tribute to weather phenomena is a cool way to remind them just how powerful they really are.
For thousands of baby names and fun, inspirational lists, check out the Scary Mommy Baby Name Database!
This article was originally published on