16-Year-Old Designs Brilliant Stroller Attachment For Disabled Mom's Wheelchair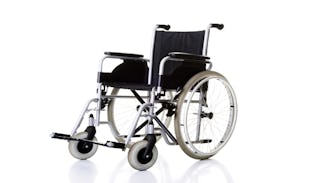 Imagine not having the simple joy and convenience of pushing your baby in a stroller. That was the reality for one Michigan mom until a chance meeting with a design student changed her life.
Sharina Jones lost the use of her legs when she was the victim of an accidental shooting at five years old. Since then, she's used a wheelchair to go about her daily activities and has devoted her life to advocating for other wheelchair users. She even started a non-profit organization called Think Beyond The Chair that delivers wheelchairs to children in impoverished nations.
When Jones found out she was expecting a baby earlier this year, she wondered how she'd tackle certain aspects of caregiving. One of her biggest concerns was being able to easily use a stroller. She heard about a unique program at the University of Detroit Mercy that tasks gifted high school students with college-level STEM projects that sometimes work to benefit people with disabilities. She decided to call the program director and was matched with 16-year-old Alden Kane, who engineered an innovative stroller attachment to meet her needs.
The stroller is made of lightweight steel tubing and is designed to easily attach and detach from Jones' wheelchair. It took six months for Kane to come up with the design, but he tells Today the entire process was "extremely rewarding." Jones' son is now ten weeks old and she says the stroller has given her an amazing amount of freedom. She and Kane both hope he can patent the invention and make it widely available to other disabled parents.
Kane's idea for this attachment is absolutely genius, and it's hard to believe that something like this didn't exist before now. We have every variation of stroller you could possibly imagine for able-bodied parents. You can get strollers with cup holders, iPhone chargers, purse hooks — even strollers that fold themselves up at the push of a button. For parents with limited mobility, however, it seems the options are few.
According to the National Council on Disability, there are 4.1 million disabled parents living in the U.S right now. Their disabilities vary widely in type and severity, yet they share a common problem in that so few baby products exist specifically to meet their needs. Kane's wheelchair stroller attachment is an incredible product not just because of the way it helps Jones, but also because it highlights a serious need for baby products that make life easier for disabled moms and dads.
Anyone who has the desire to become a parent should have access to the same conveniences that other parents enjoy. Hopefully the attention this story gets will inspire other brilliant minds to come up with new devices that make child-rearing simpler for parents with disabilities. Caring for small kids is not an easy task, and we should do as much as we can to help every parent out.
This article was originally published on