19-Month-Old's Photos Give Us A Glimpse Into How Toddlers See The World
by Jerriann Sullivan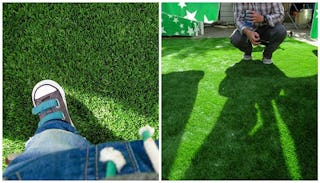 19-month-old photographer already experiencing viral fame
Like father like son. Nineteen-month-old Stanley shot some pics from his point of view, and people loved the chance to see things from a kid's perspective. His dad, Timothy Jones, is a photographer for the British Army, so it was only a matter of time before little Stan grabbed a camera.
Get the free e-book: "The Mom Club — 10 Stories to Make You Feel Like a Better Parent." Download it here, before this offer runs out!
The toddler can't read all the rave reviews he's gotten online, but we're sure the story of his first photo shoot will be a family favorite. "I gave him the Canon after he was trying to take photos on my GoPro," Stan's dad told Scary Mommy. "He could handle this camera and worked it out pretty quickly." The little guy took to dad's GoPro when the family visited the Dominican Republic, so when they got home, he was hooked up with a proper camera that Jones admitted is outdated.
"He has a few of my old crappy point and shoot film cameras in his toy box to play with, but today I gave him my Canon G12," Jones wrote in a blog post. "To be honest, it's a pile of shit, and it doesn't get used at all. It was probably a tip top camera back in the day but by today's standards, it's not the best." Armed with his new toy, Stan took on the challenge of photographing his favorite things: mom, dad, his pup, their home, their garden, and more than anything else, his feet.
RELATED: These Digital Cameras Will Make Your Kid A Photographer In A Flash
"That's how he sees the world at the moment. He looks up at us, down at his feet and straight on at his surroundings," his dad shared with us. "I just hope that people see them for what they are. A child's perception of the world as he sees it."
Stan's method of shooting sounds pretty relaxed. "He wandered round the house and garden snapping away saying 'cheese' at everything," dad explained. But the toddler's already showing some technical promise. "He even managed to switch the settings to 'sepia' at one point," Jones said. "I'm guessing he was feeling a bit pretentious and wanted to change the style of his shots. He looks through the viewfinder as well rather than use the LCD screen on the back."
Dad shot some pics of Stan in action on his iPhone, too, and we've got to say, he looks seriously focused, but also adorable.
Once Stan finished his photo shoot, mom and dad decided to take a peek at their son's first pics. "We thought they were pretty groovy! I was just intrigued by the perspective of them," Jones explained. "Who knows he could grow up to be like his dad and become a photographer himself!"
Don't forget: "The Mom Club — 10 Stories to Make You Feel Like a Better Parent." Download it here!
This article was originally published on