A Very Good, Big Boy Had To Be Rescued On A Hike And The Rescuers Shared Photos
by Christina Marfice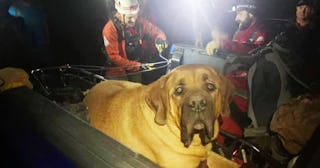 Salt Lake County Sheriff's Search and Rescue/Facebook
It's not common for Search and Rescue to have to save a dog, but they were happy to do it
Anyone who's hiked up a mountain knows that it can be really hard, especially if you're not, uh, in the best shape of your life. Floyd, a 190-pound dog, is more of a couch guy than a nature guy, and we can respect that. During a hike in Salt Lake County, Floyd got worn out and injured his paws, and a volunteer Search and Rescue team had to be dispatched to get him down the mountain to safety. There's no shame in this, Floyd. We feel you.
According to the Search and Rescue team's Facebook page, they "got a call for a 190-pound, 3-year-old Male injured Mastiff about two miles up the Grandeur Peak Trail. Several hikers had called Unified Police to report that the dog and his owner were on the trail and not able to move. Salt Lake County Search and Rescue members went into action and headed up the trail to make sure Floyd could get off the mountain with his human before it got too cold."
They added that the story does have a happy ending: "Floyd was packaged in a litter and carried down the mountain. Floyd was a good boy and was happy to be assisted."
Of course Floyd was a good boy.
Three-year-old Floyd was hiking with his human and family on the Grandeur Peak trail. They started what should have been a three-hour hike around noon, but after accidentally getting off-trail, the group had to climb a steep slope, which took the last of Floyd's energy. Plus, the rocky climb cut up his paws. Floyd's human gave him lots of water and was prepared to spend the night with him on the trail, but concerned hikers who passed them throughout the day (many of whom also gave extra water to Floyd) were worried about the poor dog and called 911 when they got back into cell reception. By evening, a Salt Lake County Search and Rescue crew was dispatched to find Floyd and get him down the mountain.
"This was an interesting rescue because of the size of Floyd," Todd Taylor, the team squad leader, told Buzzfeed. But 190-pound Floyd is about the size of a large human, so the team just treated this like they were rescuing a large human. 10 volunteers arrived with helmets, ropes, radios, and a stretcher, which they had to carry most of the way because one of its wheels broke an hour into the rescue operation.
"We were prepared to have to strap him down, but he was very well-behaved," Taylor said, adding that Floyd seemed grateful that he was getting some help. Truly the best boy.
To make this whole situation even better, the Search and Rescue team posted tons of photos and videos to their Facebook page, so the whole world can see Floyd being such a good dog. The comments on the post are so heartwarming — people were absolutely thrilled to see that Floyd was rescued and is now safe and sound.
That's the happy ending to this story: Floyd, his human, and the Search and Rescue crew all made it safely off the trail by about 10:30 that night.
While Floyd's story has a happy ending, this is a reminder that if you take your dog hiking, you have to be prepared in case something happens and your furry BFF can't finish the trail. Or just plan to call Search and Rescue so the whole internet can see more dog rescues.
This article was originally published on