20 Chrissy Teigen Tweets That Are Hilariously Relatable
by Joanna McClanahan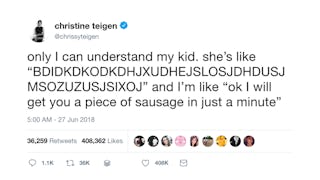 Twitter / @chrissyteigen
We don't deserve Chrissy Teigen. We love her cooking tips, her #goals marriage with singer John Legend, and her refreshing honesty about relationships, motherhood, and everything in between. She's smart and funny and isn't afraid to tell it how it is.
The gorgeous mom of two slays every day on Twitter and currently has over 10.6 million followers. So if you're not already following her, you should probably reconsider all your life decisions that led to this point. She keeps it real and we love her for it. Here are 20 of her most hilariously relatable tweets:
Like that time she almost went to the Grammys with fun-dip fingers:
Or her observation about the little mermaid's selective vocabulary:
And this reply to someone's tweet that there need to be more "MAGA" Disney princesses:
We love that she loves food:
And when she shuts down the trolls:
We love her random takes on things like Instagram:
And how sometimes she drunk-tweets:
Or how she is always trolling her own husband:
And her marriage and relationship advice is always solid:
Including how to use your significant other as murder insurance:
But she's not here for people claiming they're the perfect couple:
Even though they kind of are:
And she isn't afraid to talk about how shitty pregnancy can be:
Or how epidurals are the shit:
And how birth is better when your b-hole remains in tact:
As well as all the other fun surprises that come with motherhood:
Including how easily confused grandparents can be:
And she gets serious about the serious issues, like postpartum depression:
But she makes us LAUGH with her very real take on toddlers:
And her take on fitness (haters will say it's Photoshop):
She is just so real and cool and we want to be friends with her. Maybe get matching tattoos. No big deal.