20 TV Character Deaths We Will Never Get Over (Spoilers. Obviously.)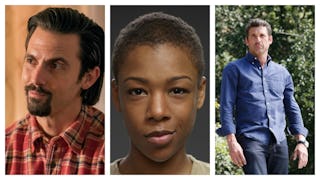 NBC / Netflix / ABC
When you watch a television show regularly, it's impossible not to get attached to the show's characters. So when one of them dies, it can be absolutely devastating. Sometimes we have a stronger attachment to these characters than we do to people we actually know. They are in our homes once a week (or if you're anything like me, for four hours in one day because somehow you've binge-watched several episodes when you told yourself you were only going to watch one).
Character deaths change the entire way we interact with our favorite shows, even it was a death we saw coming (sometimes those hurt even more.) Sometimes we are too shaken to continue watching for a few days, weeks, or even months. But just as life must go on for the remaining characters, we always return.
There are some shows that have become notorious for killing off some of their most beloved characters (cough, Grey's Anatomy, cough) and you'd think that we'd get used to it, but every new character is like a slap in the face. We have to wonder if the writers of these shows get some sort of sick pleasure from torturing us viewers, and yet we return for the sweet torture week after week, year after year. So, here are just a taste of the TV character deaths we still can't get over. Pass the tissues.
Obviously, spoilers ahead. Read at your own risk.
Derek "McDreamy" Shepherd, Grey's Anatomy
The only way Patrick Dempsey could leave the show would be something drastic happening to Derek, but that didn't make it any less painful.
Dr. Mark Greene, ER
Dr. Mark Greene's death was the first time I was deeply affected by the death of a TV character. I had grown up watching ER, and he was always a favorite. So for the show to lose such an important character was devastating. The episode where he dies was one of the most beautifully heartbreaking episodes of the show, and it still makes me cry all these years later.
Jack Pearson, This is Us
We've known from the beginning of This is Us that Jack Pearson is dead. The mystery has always been how. And now that we're finding out, it's heartbreaking all over again.
Deb Morgan, Dexter
"SHE DIDN'T DESERVE TO DIE!!!" — Melissa B.
George O'Malley, Grey's Anatomy
"GEORGE. EFFIN. O'MALLEY. I was binging the series for the first time and stopped watching Grey's for a solid 8-9 months after that trauma. I could not handle it. I have never cried that hard for a fictional character in my life— just like soul-draining sobs." — Sarah W.
Jen Lindley, Dawson's Creek
Dawson's Creek, which just celebrated its 20th anniversary, is the teen drama most millennials remember watching. Michelle Williams' character, Jen Lindley, whose arrival kick-started a lot of the action in the series premiere was always a bit of troubled soul with a heart of gold. NO ONE was expecting her to die of cancer in the finale. NO ONE.
Denny Duquette, Grey's Anatomy
As crushing as McDreamy's death was, Denny was the first memorable (and most heartbreaking, IMO) Grey's Anatomy death, and it still brings tears to my eyes. At least, we'll always have the Denny Duquette Memorial Clinic at Grey-Sloan Memorial Hospital.
Ziva David, NCIS
Ziva's character had already been written off the show for several seasons at the time of her character's death. It was heartbreaking to know that she had been killed off screen, but even more so when we found out that she had Tony DiNozzo's daughter and he never knew.
Poussey Washington, Orange is the New Black
In a show about prison, you assume that death may be inevitable. But when Poussey Washington was killed on OITNB, we were wrecked — absolutely wrecked — especially given the way she was murdered.
Nate Fisher, Six Feet Under
"I mean I've never cried as hard as I did when Nate from Six Feet Under died. Also the whole finale is clearly the greatest episode of tv to ever air." — Jonathan C.
Glenn, The Walking Dead
Truly, one of the most devastating TWD deaths. And in a show about zombies that's really saying something.
Dr. Lance Sweets, Bones
"I cry like a blubbering idiot every time I watch it. Booth had been gone for 3 months, Sweets helped Brennan and was having a baby. I'm crying now thinking of it." — Christine J.
Will Gardner, The Good Wife
"I held out hope that he'd faked his death and that he'd show up in every season finale." — Christine B.
Mr. Hooper, Sesame Street
For many kids, Mr. Hooper's death was the first lesson in loss, grief, and mourning. Since Sesame Street is about teaching children not just about letters and numbers, but also about life, they felt it was important to address the tragic death of the actor who played the role instead of simply writing him off.
Wes Gibbons, How to Get Away With Murder
Even though murder is in the title, no one could have expected Wes's murder on HTGAWM. Still heartbroken.
Oberyn, Game of Thrones
"So many people die on that show, and he was a beautiful, beautiful man." — Tracy F.
Richard Gilmore, Gilmore Girls
When reviving Gilmore Girls, there was no way they couldn't mention the death of Richard Gilmore. The actor who played him, Edward Hermann, had passed away in 2014 of brain cancer. He was greatly missed.
Opie, Sons of Anarchy
"I sobbed for HOURS. Honestly I'm still not over it." — Morgan B.
Hodor, Game of Thrones
With the many deaths on GOT, this was definitely one of the most tragic.
Finn Hudson, Glee
There was no other choice to kill Finn Hudson, when actor Cory Monteith died tragically of a drug overdose. Lea Michele's cover of Adele's version of "To Make You Feel My Love," which was the real life couple's special song, will make you SOB.
These characters may be gone from their shows, but they are still very much alive in the hearts of the viewers who loved them. Which TV character death can't you get over? Tell us in the comments!
*gifs via Giphy