20 LGBTQ Books For Kids From Preschooler To High School
by Amber Leventry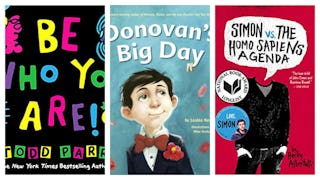 Images via Amazon
As a non-binary, queer mama of three kids, including one who is transgender, I promise you that representation matters. Sometimes the only place LGBTQ kids, teenagers, and families can see ourselves is in a LGBTQ-themed book. And believe me, it matters.
Seeing a transgender or non-binary character in a book allows my daughter and me to feel more normal. Reading about other two-mom or two-dad families at home or at school lets my kids know all families are valued.
Thankfully the number of quality LGBTQ books is on the rise. And for the record, neither you nor your kid needs to be queer to enjoy these books. In fact, it if you are not queer, you should read them. Understand and see us. Then teach kindness and acceptance. LGBTQ books should be part of all kids' reading materials and educational narrative.
Here are 20 LGBTQ themed books to get you and your kids from preschool to high school.
Preschool
The combination of Parr's silly sense of humor and bright illustrations draws in kids of all ages. Parr often references families with two moms, two dads, and adoptive families. Be Who You Are encourages and emphasizes the beauty of our differences, including wearing what we need to feel like ourselves and being proud of where we are from.
What Does a Princess Really Look Like? is part of the Brave Like A Girl Series. Chloe loves princesses and ballerinas, but she also wants to create a Princess Ballerina that mirrors herself. When Chloe is finished creating her strong, smart, and kind princess, Chloe's dads pop in to see the final product. They celebrate the girl, their daughter, who is being represented through paper, glue, and jewels.
3. I Am Jazz, Jazz Jennings and Jessica Herthel
Written with help from public figure and transgender teenager, Jazz Jennings, this gentle and easy to follow storybook explains what it means to be transgender. Jazz explains that she has a "girl brain, but a boy body." She knew from a young age that she was a girl, even though the world saw her as a boy. It follows her social transition from assigned male to living as a happy female. This book was specifically written for young children with easy to understand language that all kids and adults can use to feel comfortable with a topic that may seem complicated.
It is never too early to talk to our kids about gender binaries and gender stereotypes and the ways we can challenge the expectations of both topics. Pink Is For Boys allows for diverse gender expression and reminds kids there are not "boy" and "girl" things or colors. Not that they should need it, but this book gives all genders the freedom to express themselves however they want.
This story is based on the true story of Central Park Zoo penguins, Roy and Silo. As other penguins in the penguin house pair off as male/female couples, male penguins Roy and Silo become a couple. They take care of each other, sing to each other, and build a nest of stones and sleep on it together the way the other penguins do. But after seeing their disappointment each morning when they never wake to a baby like their penguin friends do, zookeeper Mr. Gramzay helps the couple become fathers by placing an unhatched egg in their care.
Elementary School
Errol and his teddy bear, Thomas, are best friends. They do everything together. But then Errol notices that Thomas is sad. Thomas explains that she has always been a girl teddy, not a boy teddy, and Thomas wants her name to be Tilly. Errol loves his friend unconditionally and doesn't care if his teddy is a boy or a girl. This book is a great way to talk about transgender people and the importance of loving and accepting them when they tell us their truth.
Stella has two dads, but her classroom is preparing for Mother's Day celebrations. Stella struggles with who to invite to the party. But with some reflection, pride, and confidence she realizes that she has more love in her life than she can limit to just one person. Stella brings Papa, Daddy, and many more family members who love and support her every day. This book redefines family and reminds us that love is love.
All homes, classrooms, and school curriculums should be LGBTQ inclusive. Pride was written specifically for kids in grades 1-3 and needs to be a staple in all schools. This book provides some history of the LGBTQ movement, the story and importance behind the rainbow flag, and highlights the need to keep fighting for equality. The message is clear and the illustrations are vibrant and heartwarming.
9. Neither, Airlie Anderson
In the land of This and That, one is either a blue bunny or yellow bird. But one little creature hatches as mix of both bunny and bird; they declare themself to be Both. But the others do not accept Both and call them Neither. Neither flies away to the Land of All and finds acceptance in a world where differences are celebrated. Neither allows all of us to explore gender and what it means to be someone in the margins or outside of the binary world of boy and girl. It gives kids the chance to understand that gender is not always this or that.
Author Leslea Newman published the groundbreaking book Heather Has Two Mommies in 1989, at a time when being openly gay was difficult and when being a gay parent was seen as abusive. It still can be tough to be out and some still believe that I am damaging my kids by raising them in a house with two moms. But in 2018, gay marriage is legal, and many same-sex couples are getting married. Donovan's Big Day takes us through the excitement of his role as the ring bearer in his moms' wedding. This is a story about love and family, and normalizes all marriages.
Middle School
11. George, Alex Gino
When everyone looks at George, they see a boy, but George knows she is a girl. When her grade is going to perform Charlotte's Web for the school play, George really wants the part of Charlotte. Her teacher won't let her try out for it, though, because she says George is a boy and needs to choose a male role. George is afraid to tell her secret, but with the help of her best friend, she lets the school see her true self. George won the Children's Stonewall Award, the Lambda Literary Award, and the E.B. White Honor.
Levy takes us into the world of four brothers, their fathers, and their family pets; all that can go wrong will. But even with their misadventures, the Fletchers are a close knit family, full of love and funny stories. As with any kid, their lives are ruled by school, friends, and crushes. Having two supportive dads is just a part of their story, not the whole.
Book 2 in the Family Fletcher Series, The Family Fletcher Takes Rock Island, is just as fun, but with a bit more depth. Levy explores race and gender stereotypes while hooking readers with the hilarious and sweet family dynamics of these four adopted boys and their two dads.
Levy wrote this book using a peripheral character from the Family Fletcher Series. Sarah Johnston-Fischer is not thrilled to be spending the summer on a cross-country train ride with her two moms, her little sister, her older sister and her boyfriend, and a bunch of loud strangers. She wants to complete the pre-middle-school Reinvention Project she has set up with her best friends. But change doesn't come easy, and everything she fights and tries to escape turns out to be the things she actually needs to reinvent herself before heading off to middle school.
Shane Wood is just a baseball playing, video game loving, and comic book drawing 12-year-old boy. But he is also living a stealth life as a transgender boy. No one at the school knows Shane was assigned female at birth and lived a life as a female for years—not even his best friend. But a classmate uncovers his truth and outs him. Shane is supported by his mother, but he needs to know if he will be supported by his best friend and his teammates too.
This is one of the sweetest and most honest books about young queer love I have ever read. Hitchcock perfectly paints the infatuation of a first crush with the frustration of having to hide because the crush is between two girls. The backdrop of the book is a 1970s southern town soaked in religion. But 7th graders Sam and Allie challenge politics, disapproval, and fear by clinging to their feelings for each other.
High School
16. Simon vs. the Homo Sapiens Agenda, Becky Albertalli
This award winning book is also Amazon's #1 best seller for LGBT teen and young adult romance and was turned into the movie Love, Simon. 16-year-old high school junior Simon Spier is gay, but he's not out. Emails he has been writing to another gay teenager were discovered and are being used to blackmail him. But in order to protect himself, his friends, and the boy he is falling for, Simon needs to figure out how to be honest with the people he loves the most.
Trailblazer, advocate, and badass Jazz Jennings has been living in the spotlight since she was a child. Her courage and unfiltered ability to articulate what so many transgender kids and teens need to hear is unmatched. Jazz's memoir takes us further into what it's like to be a transgender teenager in a world that is not always kind or accepting. She shows us what it's like to transition from girl to woman while knowing she still has physical transitions to make to feel at home in her body.
Ramona is a tall, strong-willed, blue-haired girl who takes care of her family. She also happens to like girls. But when an old male childhood friend comes back to town, Ramona starts to feel more than friendship for her old buddy, Freddie. She questions her identity and sexuality and learns that love is fluid.
Leo Denton is a transgender male, entering a new school as stealth—no one knows he is transgender. He wants to keep his head down and focus on school work, but instead he attracts one of the most beautiful and popular girls in his class. And then he sticks up for a classmate who is on a very public journey in her transition from male to female. This is a raw and heart-wrenching story, but one that shows the importance of friendship, even when it's found in the most unexpected ways.
High school senior Joanna Gordon has been out and proud for years. She has even been supported by her family. But when her radio evangelist dad remarries and moves her to conservative Rome, Georgia, she promises to keep quiet about her sexuality. Then she meets Mary Carlson. Sometimes the perfect girl is worth a broken promise.
Books are essential to making the world a better, more accepting, and safer place to exist. They make a reader feel included in a particular conversation. Books allow readers to escape reality while our reality is validated through words and stories. This is especially true for LGBTQ youth and their parents when they are able to lose themselves in a good LGBTQ themed book.
Editors may receive samples and/or a share from purchases made via links on this page. All opinions are our own.
This article was originally published on