20 'No More Stuff' Gift Ideas For A Year When We Can't Do Typical Experiences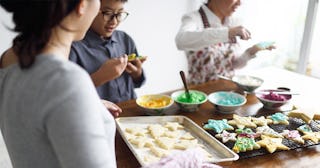 Carlina Teteris/Getty
I love the holidays, but there's one thing that has made me feel a little Grinchy over the past few years – gifts. Add the challenges of 2020 and the pandemic and, well, I kind of just want to say "bah humbug" to it all. Except not really.
The truth is, I love giving gifts. What I don't like is lots of stuff. I don't like giving crap to my kids, I don't like when they receive crap, and I certainly don't like receiving it myself. Which is why, over the past several years, my gift giving (and my own gift list) has mostly consisted of experiences, rather than things.
Studies show that experiences, rather than "stuff," enhance gratitude. According to researchers at Cornell University, "we feel more gratitude for what we've done than for what we have – and that kind of gratitude results in more generous behavior toward others."
The trouble is, this year, most of my go-to experience gifts are off the table due to the pandemic. We usually gave our kids movie tickets, but that's out of the question. A weekend at a waterpark? Also a no-go. Even our annual outing to the bookstore the day after Christmas is complicated by COVID restrictions.
But with a little creativity – and some help from Facebook pals – I am reassured that I can still stick to my experiences-over-things philosophy. If you too prefer non-toy gifts for your kids, and don't want to give your mother-in-law another tchotchke that'll just collect dust, here's a list of fun and pandemic-friendly experience gifts.
1. Membership to a music streaming service, like Pandora, Spotify or iTunes.
2. Membership to an area beach.
3. Gift certificate to local bookstore. Bonus points for a women-owned or Black-owned bookstores, like Semicolon and Room of One's Own.
4. Learning and activity kits like Kiwi Crate innovation kits, Mysteries in Time, and Little Passports, cooking kits like Global Grub and Raddish Kids, or a monthly journaling subscription from Silk + Sonder.
5. A book-of-the-month subscription.
6. Cookie decorating kits.
7. Gear to try a new socially distanced activity, like ice skates or hiking boots.
8. Membership to Master Class so they can hone their latest passion. (They have tons of classes on everything from photography and skateboarding to cooking and fashion design).
9. Xbox gift card. (If your kids are like mine, their "passion" is video gaming.)
10. A shipment of mall favorites, like Great American Cookie, Cinnabon, or Auntie Anne's Pretzels.
11. Magazine subscription.
12. Gift cards to local restaurants – for take-out, of course.
13. Tickets for concerts streaming online.
14. Donation to a favorite charity (many, like World Wildlife Foundation, will also include a small trinket with the donation).
15. A gift certificate for pick-a-spot adventure. Find a local map, close your eyes, and pick a spot to explore on an upcoming weekend. Make sure to bring your mask.
16. A season pass to a state or national park system.
17. Membership to TV streaming services, like Hulu or AppleTV.
18. An online escape room adventure.
19. Gift certificate to a fast food restaurant that they love.
20. An at-home movie night with popcorn and movie snacks.
Happy shopping!
This article was originally published on