20 Things People Who Have Panic Attacks Wish Their Friends Understood
by Andrew Lorenz for The Mighty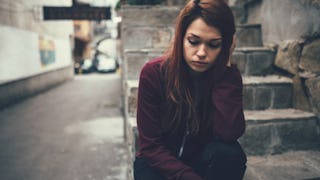 filadendron / iStock
Panic attacks can be one of the scariest symptoms of anxiety disorders, as well as one of the most misunderstood. They often include feelings of fear and impending doom, but how they look can be different from person to person. While some people hyperventilate and cry, others might go quiet and isolate themselves. This can make helping someone through a panic attack feel impossible for people who don't experience them.
With over 40 million people in the U.S. affected by anxiety disorders, it's important for everyone to understand what a panic attack looks like, and what to do if a loved one is suffering from an attack. So we asked people living with anxiety disorders in our mental health community what they want their friends to know about panic attacks. But because everyone experiences anxiety differently, we encourage you to ask your friends how you can help them during an attack.
Here's what they had to say:
1. "I wish they would understand I don't always know what's causing it or what exactly to do to stop it. The only thing I know is I'm having one and holding my hand is the best thing they can do for me during this time." –Shanice A.
2. "I wish my friends would understand how exhausting panic attacks are. After I have a panic attack, depending on the severity, sometimes I'm exhausted for days or feel like I need a nap immediately following the attack." –Aurora W.
3. "It is pointless for someone to tell me 'just stop thinking about it' and 'you need to stop letting things affect you so much.' As if it's my choice to feel nauseated, weak and terrified I will pass out." –Mary M.
4. "I wish they understood why I cancel plans last minute. I wish they understood why I would rather stay home than go to a crowded party. Or have a small kick-back instead of going out. I wish they knew I don't need to get out of the house to feel better — I'll feel worse. I don't mean to be that friend who you don't hear from sometimes. My mind is too busy to remember to send a text." –Kitana W.
5. "It is not helpful to point out my visible symptoms. Trust me, I was aware of them long before you were. I can see the trembling hands, I can feel the flushing and I am aware of the slight stutter in my words." –April C.
6. "I wish they understood I can't control my panic attacks. They often come on suddenly and unexpectedly. I need space to breathe and reassure myself I'm safe. I'll come back when I'm better, I promise." –Michelle H.
7. "I wish they would still be there but give me space to recover. When I have an attack I lose control of myself. I become restless, annoyed and my mind goes into overdrive. The worst part is trying to explain this to someone whilst having an attack." –John N.
8. "I wish they understood hugging me and holding my hand can sometimes make me feel claustrophobic and often makes the situation worse. I just need them to sit in the room with me and give me space." –Abi N.
9. "I wish they understood how truly terrifying it always is. I wish they knew, no matter how many panic attacks I've experienced, each one is horrifying — they never wane or ease up. You never get used to it. Even when I understand physiologically what is happening, I can't make myself feel more comfortable." –Kristen G.
10. "Sometimes when I'm having a panic attack, I'm not always hyperventilating, screaming and yelling or ultimately freaking out. Sometimes I go silent, I space out, I freeze and find myself left alone with my intrusive thoughts while I feel my heart try to beat out of my chest. Yet, even in these moments when it looks like it's not affecting me that badly, I feel like I'm drowning within myself. Just because I look OK, doesn't mean I am." –Alissa O.
11. "When I get a panic attack in public, I wish they'd understand when I say I'm not feeling well and I need to get out of the situation. I often get so panicked I feel like I'm about to faint. I hate it when people don't take it seriously and think 'one more minute' will be fine and I'll get over it or forget. It's not for attention, it's not because I'm not having a good time, I just feel like I'm dying and need to get out of that situation." –Kerryn S.
12. "I wish they would understand I'm still me, nothing about my personality has changed. I just might have to cancel plans on a short notice, or I might be quiet as I work through my anxiety, but just give me time to recover from the attack. I'm still me. This condition does not change who I am, it is just a side effect of my mental disorder and I need you to understand that." –Staci J.
13. "Panic attacks are not always hyperventilating out of control. Sometimes they are sitting in a full lecture theater for half an hour, concentrating on nothing but your breathing because you have to." –Madelynn W.
14. "While I'm having one, if you can find my headphones or get me away from people that'll help. Water is good. Quiet, constant reassurance is nice too. Try saying something like 'I know it's not OK now but we can get through this. And then we'll do this nice calm thing that you like. And hey, didn't you get that new movie you wanted to watch?'" –Will M.
15. "I wish my friends would understand it doesn't make me a freak or define me — panic attacks are something I just have to live with." –Savannah W.
16. "I'm not just overreacting, it's not just a bad day. It gets physically hard for me to breathe and even think. All my energy seems to go toward keeping myself from laying down and the floor and just sleeping." –McKenna G.
17. "It's not just one thing that causes it. It's a bunch of things that snowball rapidly and can't be stopped. It's physically and emotionally draining." –Wrae S.
18. "I wish they wouldn't start to panic themselves or keep asking questions which I don't know the answer to myself." –Nicola B.
19. "Don't get irritated when I ask the same question 10 times, I'm trying to convince my mind that I'm not dying." –Crystal K.
20. "I don't want their pity or them to feel bad for me. I want them to just be there for me, let me vent, let me cry and just don't give up on me." –Ashley C.
Editor's note: Everyone experiences anxiety differently, and this piece is based on the experiences of individuals.
*Some answers have been edited for length and clarity.