20 TV Couples Who Make Us LOVE Love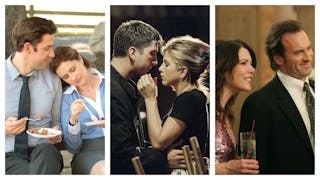 NBC / NBC / WARNER BROS.
If you're anything like me, you're a sucker for a good romance. I just love love. So, there's nothing I love more than watching people fall in love, especially on television. There is either that slow burn, "Will they, or won't they?" type of relationship, or the one that is already established when the show begins.
Television has a long history of setting up these picture perfect (or imperfect) relationships, which keep us tuning in week after week. It was hard to narrow down this list, because there are so many amazing couples in television history, but here are just a few of our favorite swoon-worthy tv couples.
1. Luke and Lorelai — Gilmore Girls
Luke Danes and Lorelai Gilmore were the ultimate friends-to-lovers TV couple. After spending several seasons as friends who clearly loved to squabble, the lovable curmudgeon and quick-talking coffee addict finally got together. Then they were ripped apart by the arrival of Luke's daughter (the polarizing April Nardini), but in the end, they got their happily ever after. Phew.
2. Adam and Kristina Braverman — Parenthood
Adam and Kristina are the quintessential perfect TV couple. They face hardships, including raising a child with special needs, but somehow they still manage to have a rock solid relationship, unlike all of the other Braverman kids.
Initially, the television networks didn't think that Desi Arnaz would make a convincing husband for Lucille Ball — even though he was her real life husband. Obviously, the network was wrong, because Lucy and Ricky Ricardo are still one of the most loved television couples of all time.
4. Jim and Pam — The Office
Everyone loves a good office romance. And Jim and Pam were the ultimate office relationship.
5. Randall and Beth — This is Us
In a show about love and family, Randall and Beth are such a strong example of that. They are one of the most stable relationships on the show, and one of the finest examples of a positive black relationship currently on television.
6. Leslie and Ben — Parks and Recreation
While they initially had some friction, eventually that friction fanned the flames of a hot relationship. Leslie and Ben had to keep their office romance a secret at first, but their love flourished and ultimately had a happy ending.
7. Pacey and Joey — Dawson's Creek
Even if you're Team Dawson, you have to admit that there was something about Pacey and Joey that somehow worked. Because they were mostly friends, there was a deeper sense of caring and mutual respect in their relationship.
8. Marshall and Lily — How I Met Your Mother
Marshall and Lily were the benchmark couple on the show, and even when they weren't in a relationship, you knew that it was all going to work out in the end. Their love was weird and cute and honest, and they were so often the adults of the group, because they mostly had their shit together.
9. Ross and Rachel — Friends
There is no more iconic 90s TV couple than Ross Gellar and Rachel Green. In spite of all the hurdles in their relationship ("We were on a break!"), of course, we knew that Rachel would get off the plane.
10. Mark and Lexie — Grey's Anatomy
Sure, there are plenty of great love stories on Grey's Anatomy, but Mark Sloan and Lexie Grey were one for the ages.
11. Miranda and Steve — Sex and the City
There were many great love stories on SATC, but Miranda and Steve's was probably the most realistic. Miranda, the cynic, is so reluctant to believe that Steve, the bartender, could actually be a good guy, but eventually he wears her down. When they finally stopped messing around and got married, it was one of the best moments of the show.
12. Sol and Robert — Grace and Frankie
"They are a late in life couple (both were married to women and afraid to come out, as so many men from that generation were), so it's just so heartening to see that representation of how far our society turns has come, although clearly we have a long ways to go." — Jeanne S.
13. Tara and Willow — Buffy, the Vampire Slayer
Willow and Tara were one of the first openly lesbian couples on primetime television. Their love, and by extension their magical powers, were heavily praised because it wasn't something that had really been seen up until that point on network television. Theirs was also one of the most consistent relationships on the show.
14. Whitley and Dwayne — A Different World
The back and forth of collegiate love between snooty socialite Whitley Gilbert and nerdy, regular guy Dwayne Wayne was one for the ages. Every time you think they had it figured it out, something would rip them apart. But when Dwayne stopped Whitley's wedding and carried her out of the church in her wedding dress, hearts everywhere swelled with joy.
15. Cory and Topanga — Boy Meets World
Cory Matthews and Topanga Lawrence had the kind of love that all 90s kids dreamed of. They were grade school sweethearts, who went through some growing pains, but got married young, and as the spinoff Girl Meets World showed, became very successful parents who were still in love.
16. Rick and Michonne — The Walking Dead
Even though interracial relationships are pretty common among real life couples, it's still a rarity on tv. So, it's refreshing to see an interracial couple of prominent and popular characters on TWD, who also just so happen to be kicking zombie ass. Amazing.
17. Winnie and Kevin — The Wonder Years
You never forget your first love. And the love between Kevin and Winnie on The Wonder Years was sweeter than puppy love. Who could forget their first kiss, scored by the classic song "When a Man Loves a Woman?" television classic. Swoon.
18. Santana and Brittany — Glee
Santana and Brittany's relationship on Glee was one of the most unexpected. The two popular cheerleaders, who had dated their share of boys on the show, falling in love and actually making it work in a high school in small town Ohio was kind of remarkable. The episode where Santana comes out to her grandmother was heartbreaking and so, so real.
19. Synclaire and Overton — Living Single
One of 90s TV's cutest couples, Synclaire James and Overton Wakefield Jones were the quirkiest black characters on television. But their love was so pure and deep that it never really affected the friendship dynamic on the show.
20. Big and Carrie — Sex and the City
As complicated as their relationship was, it was always clear that Big and Carrie were meant to be together.
TV couples remind us that there just might be true love. Their relationships may not be realistic, but it sure is fun to watch. Who are your favorite TV couples?
This article was originally published on