200 Million Eggs Were Recalled Over Salmonella: Here's What You Need To Know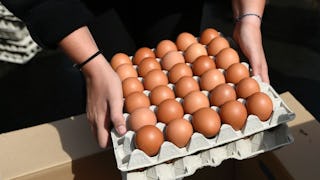 Image via JOHN THYS/AFP/Getty Images
Several brands of eggs were recalled this weekend
Nearly 207 million eggs were recalled this weekend for possible salmonella contamination after 22 people became ill. Salmonella can cause severe illness and even death when kids, seniors, or those with weakened immune systems are infected.
But it's no picnic for folks with good immune systems who get infected either. "Healthy individuals infected with Salmonella Braenderup can experience fever, diarrhea, nausea, vomiting and abdominal pain," the U.S. Food and Drug Administration said in a statement about the recalled eggs. People usually notice symptoms 12 to 72 hours after they were infected and typically stay sick for four to seven days. The total count – 206,749,248 eggs – came from Rose Acre Farms of Seymour, Indiana. At least 22 illnesses on the East Coast have been traced back to the farm. The FDA inspected the farm, which produces about 2.4 million eggs a day and has 3 million laying hens.
The eggs were distributed from the farm and sold all over the United States under various brand names in several different stores and at Waffle House restaurants. The eggs left the farm in Hyde County, North Carolina and were sold to folks in Colorado, Florida, New Jersey, New York, North Carolina, Pennsylvania, South Carolina, Virginia, and West Virginia. The possible contaminated eggs were sold under a variety of brand names including Country Daybreak, Food Lion, Nelms, Waffle House Loose, Crystal Farms, Pulp, Coburn, Sunshine Farms, Glenview, and Great Value.
Here's the complete list of brand names from the FDA, which said the eggs were from plant number P-1065 with the Julian date range of 011 through date of 102. The recalled eggs should have "Lot Codes 011-102" printed the top or either side of the carton.
Salmonella is responsible for 1.2 million illnesses, 23,000 hospitalizations, and 450 deaths in the United States every year, according to the Centers for Disease Control. Most salmonella illnesses come from food. This weekend's recall was the largest egg-related one since 2010 when salmonella left more than 1,500 people sick, the Washington Post reported. Bill Marler, an attorney who specializes in food-borne illness, told the newspaper that this outbreak was easier to spot because the type of salmonella bacteria is less common. Thankfully, that meant fewer people got sick.
If the eggs in your fridge match the ones that were recalled, you can toss them or return them to where you bought them for a full return. And obviously, don't eat them. If you have a question or concern about the recall, contact Rose Acre Farms at (855) 215-5730.