Yesterday's Elections Prove We Really Can Make America Great Again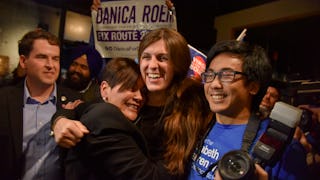 Image via Jahi Chikwendiu/The Washington Post/Getty Images
Last night made many Americans hope once again
Finally, after a long, depressing year in politics, millions of Americans have reasons to hope once again. Last night, in elections across the United States, 2017 said, "Okay, 2016, I see your Donald Trump and raise you three transgender women and a Sikh mayor."
Election 2017 was a night of historic firsts. Despite the resurgence of various hate groups and an administration that seems intent on taking us backward, Americans voted a group of people into office who are going to make bigots rage and gnash their two teeth. Here are some of the highlights:
Not one, not two, but three transgender women were elected. Former journalist Danica Roem defeated self-proclaimed "chief homophobe", bathroom bill enthusiast and 25-year incumbent Del. Robert Marshall to become the first openly transgender person elected to a state legislature.
In Minneapolis, Andrea Jenkins won her city council race in a landslide to become the first openly transgender black person ever elected to office. And Lisa Middleton became the first openly transgender candidate to be elected to a non-judicial office in California.
City Councilman Ravinder Bhalla will become the first Sikh mayor in New Jersey history when he gets sworn in as the mayor of Hoboken in January. He defeated five other candidates in a race that turned ugly this week when racist fliers were placed on car windshields with the headline, "Don't Let TERRORISM Take Over Our Town" written above an image of Bhalla, who wears a turban.
"You mean white supremacist terrorism?" asked the people of Hoboken. "Done and done."
Back in Virginia, which said, "F**k you, f**k you, and especially f**k you" to bigotry last night. Kathy Tran, who fled Vietnam with her parents as refugees when she was seven-months-old, was the first Asian Amerian woman elected to the Virginia General Assembly. Virginia also elected its first openly gay woman, Dawn Adams, and its first two Latina delegates, Elizabeth Guzman and Hala Ayala.
Damn, Virginia. There really is a Santa Claus.
But still more history was to be made across the United States: Seattle, Washington elected its first lesbian mayor, Jenny Durkan, (who is also the city's first female mayor since the 1920's) and its first openly gay school board member, Zachary DeWolf; Provo, Utah got its first woman mayor, Michelle Kaufusi; Vi Lyles became the first black woman to be elected mayor of Charlotte, North Carolina; and Melvin Carter became the first black mayor of st. Paul, Minnesota.
And folks, most of these races weren't even close.
Good job, America! We knew you had it in you. Well…we didn't really know, but we were pretty sure. Actually, it was more of a mild hope. Or a despondent prayer. But you did it!
Now let's take these victories and do something with it. Let's prove that we're better than our president.