Nothing Says 'Happy Holidays' Like A Super Sexy Dudeoir Calendar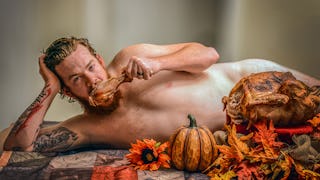 Image via Gayla Thompson
These calendar 'dudeoir' photos would make the perfect stocking stuffer
The Nashville based couple who brought us the pumpkin 'dudeoir' photo shoot are back, baby. This time they decided why stop with pumpkins, when there are so many other months of the year to be frolicking around half-naked ? The result is a full year calendar and it something you have to see to believe.
Photographer Gayla Thompson and her husband Ryan, who own GT Photography, have an amazing sense of humor. It seems Ryan is also incredibly comfortable in his own skin (and a good sport, all around). So when his pumpkin photo shoot went viral, they decided to double down on a full year of photos in various stage of undress. The results are nothing short of fantastic.
Thompson tells Scary Mommy she is still somewhat in shock that her photos went so viral, but they "love that it brought so many laughs to everyone" like it did for them. She added that the photo shoots are "now a 'thing' for my husband and I to have some fun with together."
Ryan is a contractor by day and Thompson says although he won't be quitting his day job, he will continue to be her model and muse by night and omg everyone who sees these latest photos will be so thankful he is. It's clear from the pictures he is a complete natural.
They shared their original pumpkin 'dudeoir' photos to their Facebook page and got such positive response, they calendar seemed like the next logical, and completely hilarious, step. Thompson says her husband is a "great sport and even better husband," and judging by these pictures, it is easy to see why.
The couple have plans to create additional calendars "with a very diverse group of men" next. If they are anything like this calendar, chances are they will be a big hit. Thompson tells us she has also been booked for several "dudeior" and "bromance" sessions since Ryan's pumpkin photos went public. Apparently, there are a lot of guys out there looking to get in touch with their sexier sides.
Thompson's calendar will be available for purchase on Etsy for $29.99 and will ship in time for the holidays. This would make the perfect pink elephant gift or stocking stuffer for anyone with a sense of humor.