Behold The Most Amazing Looks To Walk The Met Gala Red Carpet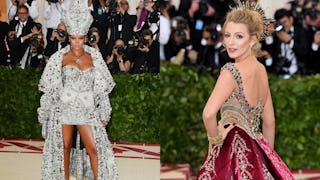 Image via George Pimentel/Getty Images/Karwai Tang/Getty Images
This year's Met Gala had a heavenly theme — and the looks were stunning
While I sat on the couch last night donning my best hole-y sweatpants purchased from a local TJ Maxx, celebrities took to the Met Gala red carpet in couture ensembles both stunning and thought-provoking. It's all about art, so in the spirit of creativity, famous faces posed for the camera in looks you won't find in any store.
The Met Gala, which was once called the Costume Institute Gala and is also known as the Met Ball, is a yearly event held to raise funds for the Metropolitan Museum of Art's Costume Institute. This year's theme was "Heavenly Bodies: Fashion and the Catholic Imagination", which explains why Rihanna looked not only amazing, but a little bit Papal.
Let's start with Amal Clooney, the event's co-host (as appointed by Condé Nast artistic director Anna Wintour along with Rihanna and Donatella Versace). Clooney, a world-renowned human rights lawyer who's currently a visiting professor at Columbia Law School, bristles at the idea that she can't be both a brilliant attorney and a fan of fanciful fashions. For her Vogue cover story this month, she tells the magazine, "I hate the idea that you somehow, as a human being, have to be put in a box. There's no reason why lawyers can't be fun—or actresses can't be serious."
Look. At. Her. There's pants underneath her metallic floral print Richard Quinn-designed ensemble and she's absolutely slaying it. George knows it's not his night and he's appropriately blending in wearing a plain black tux (well…as much as George Clooney can blend in).
Event co-host Rihanna took to the red carpet in a bejeweled hat and mini dress with matching train, all by Maison Margiela Artisanal.
She blessed us with her presence, honestly.
Speaking of blessings, behold actual angel Blake Lively in her custom Versace gown she reportedly had to ride a party bus to accommodate. I would trip on that train pretty much immediately, so huge props to her for owning this intimidating lewk.
Kim Kardashian was very Kim Kardashian in a gorgeous, curve-accentuating Atelier Versace gown with cross embellishments. In gold, of course.
Also representing Atelier Versace was Katy Perry. She was extremely on-theme with the whole "heavenly bodies" thing, wearing literal angel wings.
Cardi B was looking very regal in her Moschino gown that perfectly accommodated her growing baby bump. She finished off the look with gloves, headpiece, and matching train.
Frances McDormand positively stunned in a Valentino gown topped with a dramatic Philip Treacy headpiece.
Diane Kruger also brought the drama in her Prabal Gurung gown. That train though.
Actress, producer, and writer Lena Waithe (is there anything she can't do?) made a powerful Pride statement in her suit and cape by Carolina Herrera. The night's Catholic theme was beautifully reimagined by Waithe, who wore the Pride flag to celebrate the LGBTQ community.
Ariana Grande looked every inch an actual work of art in her Vera Wang ball gown that featured a painting of Michelangelo's "The Last Judgement," which is on the back wall of the Sistine Chapel.
Nicki Minaj made a (purposely) sinful statement on a night of angelic ensembles with a deep red Oscar de la Renta gown with matching train. "I'm the bad guy and I wanted to make sure the bad guy was here," she said.
Also going the red route was actress Anne Hathaway in Valentino Haute Couture.
In the spirit of ending on a high note, please prepare yourself for the glory that is Mindy Kaling looking like the absolute queen she is in a Vassilis Zoulias gown and crown by Greek designer Pericles Kondylatos. All hail the freaking queen.