Here Are The Predictions For The Top-Selling Toys Of The Season
by Christina Marfice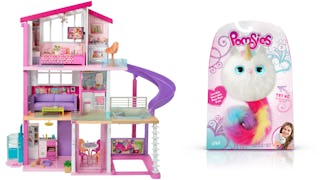 Images via Walmart.com
If your kid is up on all the trends, you're sure to see these top-selling toys on their wish list this year
Every year, there are certain toys that make all the holiday headlines, that fly off store shelves and inspire toy aisle brawls. They're the toys the coolest kids have got to have. They're the top-selling toys of the holiday season.
RELATED: The Best Electric Riding Scooters For Everyone (Yes, Even You)
This year is no exception. There are definitely some must-have toys out there, and before you wrap up your holiday shopping, you're going to want to check out this list. If you want to be a cool mom, make sure to nab at least a few of these, which we predict will be the top-selling toys of the 2018 holiday season.
You knew this list wouldn't be complete without some L.O.L. Suprise! stuff. The Bigger Surprise kit comes with 60+ surprises that are sure to keep your kids busy with that unboxing magic at least through Christmas morning. Well, maybe.
Oh, that kit up there isn't the only L.O.L. Surprise! toy that's expected to fly off store shelves. The House is made of real wood and contains more than 85 surprises. If your kiddos are L.O.L. Suprise! fans, they'll be begging for this.
Easy Bake ovens have come a long way in the decades they've been topping holiday wish lists. This year's Baking Star Edition is decorated with sparkles — and comes with a recipe for mini sparkle cakes. Can you say yum?
The coolest trick on the playground post-winter break will be making this cool orb fly between your hands. There's no remote control or touching the orb required to launch it, spin it or fly it — it moves with the power of a wave, basically like magic.
Despite being all the rage last year, Hatchimals are still expected to be some of the top-selling toys in 2018. This adorable baby Ponette is sure to make your kid's wish list.
For almost as long as Barbie has been a playroom staple, so has her DreamHouse. The 2018 edition just proves what a baller Barbie is in the modern age — check out her outdoor elevator and a slide connecting her vanity to a second story balcony plunge pool. Barbie is #HomeGoals.
This wearable plushie is a must-have for 2018's most fashionable kids. Plus, Pomsie will tell you with lights and sounds when she's tired, hungry, playful and more.
There's no longer any need to leave the house to play a round of laser tag, AKA the future is here. This double set allows for head-to-head laser tag action in any setting, plus it's compatible with other Laser X sets, making group and team play possible.
Your kid's dreams of riding a unicorn — to school, to the park, to the store, just around the house — just came true. Feber's ridable unicorn works inside and outside and comes with accessories like a brush for its long, silky mane and tail.
This in-home mini roller coaster brings all the excitement of the theme park to your backyard or living room. The included steps make it easy for your kid to hop on for an exhilarating spin on its 10-foot long track.
When Barbie isn't living in her DreamHouse, she's embracing #VanLife with her fabulous camper van all decked out for a serious glamping sesh. The DreamCamper sleeps four Barbies (not included) and comes with all the accessories they need to stay fabulous on the road.
Razor scooters will never go out of style. Even in 2018, they're still an great way for kids and teens to get around. This is the original, which means it's good for straight transportation, or learning sick scooter tricks.
These gift will make your kid the trendiest one on the block — and make you the coolest mom or dad around for nabbing them. Way to be on trend with this year's top-selling toys. Happy Holidays!
We are a participant in the Walmart.com Affiliate Program and may earn fees by linking to Walmart.com and affiliated sites.
This article was originally published on