National Spelling Bee Ends In 8-Way Tie And These Kids Will Make Your Entire Day
by Julie Scagell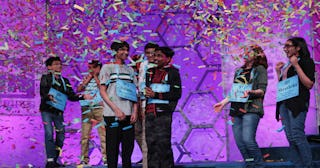 Getty Images/Alex Wong
All eight winners of the spelling bee will receive a $50,000 prize
The 92nd annual Scripps National Spelling Bee took place last week in Fort Washington, Maryland, and with all the usual nervous laughter, tension, and parental hand-wringing in the audience, the outcome was a first for the contest when they crowned eight (yes, eight) co-champions.
It was announced just after midnight on the final day (and after 17 very long rounds) that the eight remaining contestants — who made it through three more words — would share the glory, a first in the Bee's history. Jacques Bailly, the event's pronouncer, said at one point, "We're throwing the dictionary at you. And so far, you are showing this dictionary who is boss."
During those final three rounds, each of the eight congratulated each other as they spelled the words correctly, giving high-fives, hugs, and gorgeous smiles. Though many assumed the contestants would want to keep going until a single winner emerged, turns out they are pretty happy being the octo-champs they've become.
"It's definitely much more special because it's an amazing experience and you're sharing it with seven other people who know exactly what you're going through," co-winner Shruthika Padhy told Good Morning America. "You're sharing this experience for the rest of your life."
"I was very happy when I realized that, yes, there was a chance that we could be octochamps," added Sohum Sukhatankar, saying their joint win was because of the years of hard work they've all put in. "As a speller, you know how hard everyone else has worked and you know how much they deserve to win," Sukhatankar said. All eight winners were between the ages of 12-14.
The competition offers one single $50,000 prize to the champion but Scripps decided all eight winners deserved their own $50,000 and their own trophy to go along with it. When asked what they planned to do with their winnings, they all said they'll be saving it for college.
If you've seen the octo-champs interviewed, you know it's impossible to watch them and not smile. They were genuinely so excited for each other and their attitude is contagious. After years of preparation which sometimes amounts to an additional 25 hours a week of study on top of their school work, you'd think they'd be inclined to be the lone survivor. But these kids get it — sharing your joy with others is so much more rewarding.
The kids made it through an exhausting week, so the final day was the sprint at the end of a very long marathon. They began showing signs of fatigue as the contest moved into the late evening (remember they are 12-14 years of age) and at one point co-winner Rishik even asked judge Bailly, "Out of curiosity, would you happen to know what time it is?"
Lucky for them, the celebration was worth the wait.