Starbucks Holiday Cups Are Green, Red, And Say 'Merry' So Maybe The Outrage Mob Will Chill
by Cassandra Stone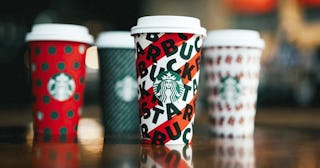 Starbucks
The 2019 Starbucks holiday cups will be available as of tomorrow!
It's the first week of November, which means if you're not already decking the halls (at least mentally) and curled up on the couch watching Hallmark Christmas movies, are you really even ready for the holidays season? In case you're not, perhaps the debut of Starbucks' holiday cups will get you there.
It's a hectic time of year, to be sure, so having that little caffeine boost is a must for moms everywhere. The delightful Starbucks holiday flavors just make those pick-me-ups even sweeter — especially in the adorable cups. Speaking of which, they're extra holiday-ish this year, so hopefully that's enough to satisfy the War on Christmas crowd once and for all?
People have been pissed off for years that the Starbucks holiday coffee cups aren't Christmas-y enough, so it appears the company has finally given in by adding an image of baby Jesus in the manger on one of the cups. And instead of nutmeg, they're sprinkling frankincense on top of your favorite latte. And in order to really embrace being environmentally-friendly, rather than a paper straw, you can suck your favorite drink through a singular straw of hay.
KIDDING.
The cups are red and green and a couple of them say "merry" on them. Ta-da!
Jen Quotson, vice president of Starbucks Creative, said this year's holiday design was created to evoke mini moments of joy for customers and partners. "We came up with this idea of wrapping the stores in holiday joy and wrapping the cups like a gift to our partners and customers," Quotson says in a press release. "We wanted coming to Starbucks to be like uncovering a present."
Polka dots for the win — you truly can't go wrong with polka dots. They're pretty much universally adored, apolitical, and festive choice all around. Typography is very present in this year's designs, as you can see. "We played with this idea of typography being art and the green dot of the Starbucks logo," Quotson says. "We just thought that was a very sweet expression of the brand, but still felt very holiday."
After the success of last year's reusable cup, Starbucks is giving us another one this holiday season — and at no cost! For one day, tomorrow, November 7th, Starbucks is giving customers who order a holiday beverage at participating Starbucks stores in the United States and Canada a free limited-edition reusable red cup.
The 2019 reusable red cup design is a riff on this year's holiday theme, with the words "Merry Coffee" dancing on a perfect, holiday red background.
This year's flavors are as cozy and delicious-sounding as ever, too: Creme Brulee, Chestnut Praline, Pumpkin Spice, Peppermint hot chocolate, Toasted White Chocolate Mocha (U.S. only), Gingerbread (Canada only), Eggnog, and Salted Caramel.
So get and go get yourself a (free, reusable, extremely Christmas-y) cup of some "get-up-and-go" tomorrow.