I Binged 12 Seasons Of 'Married At First Sight' In Record Time, And I Have Some Things To Say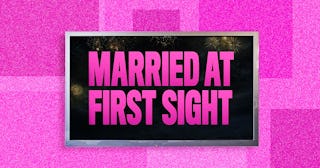 Scary Mommy, Thomas Hertwig / EyeEm/Getty and Lifetime
We all know it's been a crap year, not only for real people, but also for my Facebook friends. Our kids lived an abbreviated school year, so academic award ceremonies and end-of-season trophies were in short supply—which means Facebook wasn't splattered with photos of high achieving, bucktoothed elementary schoolers. And selfies? Who in the hell was gonna post a selfie—no matter how filtered—during a time in history when people were self-administering pandemic haircuts and letting their eyebrows go all Eugene Levy? There were no Aruba bikini pics, either. We were, instead, hunkering down in our Lazy Boys, letting our armpit hair sprout, and fantasizing of the days when we would be safe to get on a plane again.
Much like yours, my FB feed became pretty much whittled down to memes featuring pets I didn't personally know. It seemed nearly the end of the iconic "braggy post." But then, out of nowhere, everyone started bullhorning about something we could all excel at during a lockdown: reading.
Up popped the challenges, and soon I was more than aware that Sarah had just finished her 45,361st book and that you were lagging just behind at 45,359. I, myself, probably wasn't going to win any competition, since I'd only really committed to scanning the back of a lime Oikos yoghurt and re-reading "Hyperbole and a Half" a few dozen more times. But, though I didn't shine in the literary arena, I sure as hell knocked it out of the ballpark in terms of reality tv.
So, you guys can brag about your reading prowess all you want; I'm going to sit right here and flex my soul-satisfying obsession with "Married at First Sight" (or, as we acolytes call it, MAFS).
Margaret Minnicks, writing for Reelrundown.com, sums MAFS up: "Married at First Sight is a [Lifetime] television series where couples have been matched by experts to get married when they first meet at the altar….Even though it is a reality show, it is described as a social experiment. Couples meet, marry, go on a honeymoon and live together for eight weeks before deciding if they want to stay married or get a divorce."
There are 12 seasons of the American MAFS, and it's important you know that I've watched all of them in the last few months. Each season contains more or less 25 episodes. Each episode generally stretches 60-90 minutes. So, if you multiply 12 x 25 x 75, that's approximately 22,500 minutes, or 15.625 days, of my pandemic life that I've invested in the lives of my MAFS reality star friends. And, I did it in a portion of the time it took you to publicly list the books you've read—plus, let's be honest, I didn't lie.
While you were curled up on the couch pretending to enjoy "For Whom the Bell Tolls," I was on the edge of my seat watching Jamie Otis (season 1) crumple in the hallway outside the chapel after seeing—and marrying— goofy-faced Doug Hehner and his white patent leather shoes. I also got to be there for their honeymoon, when her post-wedding cold feet were warmed by Doug's lovely personality and delicious abs. (I don't want to give anything away, but I am more or less the self-appointed godmother of their 3 children.)
In the time it took you to skim the first 40 pages of "All the Light You Cannot See," I got to meet and become close friends with Ashley Petta (season 5) and Anthony D'Amico. I was even at their wedding! (I am so sorry for writing that—but I think you understand that it couldn't have been avoided.) These two were gaga over each other from the get-go, and the only conflict they seemed to have was over Ashley keeping her last name and something about a parking spot. I did spend the season anticipating some sort of blowup, but that never came.
You were almost immersed in the first book of Toni Morrison's oeuvre; I was devouring MAFS seasons 3, 8, 6, 9, 12 and 7 (another plus: you can watch seasons in any order). I got to be there when Beth Bice (season 9) unceremoniously and perfectly roasted husband Jamie Thompson: "You don't initiate anything. You just do basic Caucasian sex. And it's just like 'bam, bam done.' That's it." They name-called and sulked, but ultimately there was a "happily ever after" when the two chose to stay together on Decision Day. I imagine they rode off into the sunset, where they have been throwing tantrums and slamming doors ever since.
For all the gorgeous wedding ceremonies, immediate sparks, simmering sparks, and successful marriages (okay, I think there are ~4/158 at this counting…), MAFS contains a lot of horrid moments. When Neil Bowlus (season 3) puts on his "Big Spoon" red onesie and encourages his new bride to put on the "Little Spoon'" one he got her? Sam Role laughs at him with such derision that I felt like running out of the room and hiding under my bed. In season 12, Chris Williams tells the experts that the only problem he has with his patient, loving, and devoted new wife is "the face"—I wanted to smack "the face" right off of him.
We got a peek into unbridled nastiness when Molly Duff (season 6) rabidly mocks her lawfully-wedded Jon Francetic and spits "You're disgusting" at him over and over. And the pièce de résistance comes in season 8, when Luke Cuccurullo tells his lovely wife, Kate Sisk, that he felt "repulsed" and "dead inside" when he kissed her. (I think any sane human would like to witness a MAFS spinoff where Duff and Cuccurullo are matched, mostly to see if they could simultaneously crush each other's souls.)
Yes, I probably could have delved into a novel or memoir or self-help guide, but I kept watching so intently that I should have had an extra large popcorn in my lap. And, let me just come clean: at some point, I just started fast-forwarding past the twee parts to get to the messy ones.
So, at a very visceral level, I know MAFS feeds my schadenfreude-y tendencies —but you really can't get that quick fix from a book. I used to think of myself as a spectator watching a social experiment. Now, I realize I'm more of a peeping tom, compulsively looking through cracked blinds and trying to catch a glimpse of the ugly bits. In the end, though, no one can deny that if reality show voyeurism were a competition, I would easily be the undisputed champion.
This article was originally published on