This Year's Starbucks Holiday Cups Look Like Cute Christmas Sweaters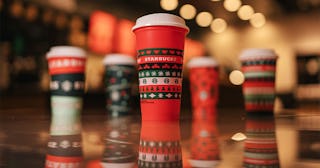 Starbucks
The Starbucks holiday cups also say 'merry' on them, should anyone think they're not Christmas-y enough
What better way to disengage from the Groundhog Day-esque election hell we're all trapped in for God knows how long than to admire the adorable new Starbucks holiday cups? (How's THAT for an intro, eh?) Since we're all ready to deck the halls earlier than usual during this dystopian year, now we can do it whilst sipping our favorite Starbucks beverage from their very cute Christmas cups. And a couple of them even look like traditional Christmas sweaters, which is a delightful touch.
This holiday season is going to look a little different this year, but it certainly won't be any less hectic or stressful. May as well get our caffeine jolts from Starbucks and enjoy their much-anticipated holiday flavors — starting tomorrow!
Beginning November 6, customers in the US and Canada can enjoy their favorite holiday beverages including Peppermint Mocha, Toasted White Chocolate Mocha, Caramel Brulee Latte, Chestnut Praline Latte, and Eggnog Latte, alongside seasonal menu items.
In addition to all of that holiday happiness, Starbucks is also giving a free collectible red holiday cup to customers who order a handcrafted holiday beverage on November 6 at participating Starbucks stores in the US. The cup offer is available for orders picked up in stores (including café, drive thru and curbside) and through Starbucks Delivers, while supplies last, quantities are limited. Starbucks has been doing this for the last two years, and it's always a hit with customers (though This Author has yet to snag one of the in-demand reusable cups but will try once more tomorrow).
Customers can also ogle the four new cup designs that are sure to bring a little Christmas cheer to those of us who are sorely in need of some (read: everyone). The designs are called: Ribbon, Dot, Sparkle and Brand Wrap.
And — BONUS — two of them have the word "merry" on it, so all the War on Christmas-ers can STFU about that this year.
Ribbon was intentionally designed to resemble a holiday sweater (YESSS! CALLED IT); Dot is lots of Starbucks' signature color punctuated with, you guessed it, cute polka dots; Sparkle has some serious vintage vibes with cutout shapes and holiday ornaments, and Brand Wrap is a more modern holiday design with clean bands of the brand's wordmark.
The bakery will feature holiday sweets to treat yourself to (and let's be honest, we've all earned a treat or 10), and there are a bunch of new merch items to purchase for gifts this year, too.
Download the Starbucks app to find a Starbucks location, check store hours, order ahead and use contactless payment.
To accommodate COVID-19 safety measures, social distancing will be enforced at locations where it's applicable. Customers can place an order in the café and take it to-go, or they can use the order ahead and pay feature in the Starbucks app and pick it up at the counter. There will be a limited number of customers inside at one time and floor markers and signage will promote social distancing.
And because convenience is key this year, you can also order at the drive-thru, curbside pickup through the Starbucks app, or enjoy their favorites without leaving home through Starbucks® Delivers, now available in all 50 states.