9 Trends For 2021, As Predicted By Pinterest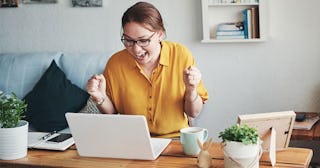 PeopleImages/Getty
I'm typically not a "new year, new me" kind of person. I don't put much stock into breaking out a new calendar for a fresh start, nor do I care much for trends or resolutions. In fact, I'm more of an anti-resolution kind of person. A trend rebel, if you will. But this isn't a typical year. After the shitstorm that has been 2020, I'm all about the new year trends and projecting what the next year will bring. Let's face it, we could all use something to look forward to right about now.
So what will 2021 have in store for us? Well, fuck if I know. But Pinterest is making some guesses for 2021 based on what folks have been pinning more of lately. I've gotta admit, this list is making me pretty excited about officially putting an end to the dumpster fire that has been 2020 and welcoming 2021.
1. Dream vacations — from home
Pinterest predicts that the hypothetical sabbatical will be a favorite activity in 2021. Because who doesn't love imagining being here…
Or here…
Or here…
I can feel my blood pressure going down just thinking about traveling again soon. And until we can actually do it, we can always plan our dream vacation (and save up, since we're not doing – well, anything at the moment).
2. Ritual baths
Right about now anything more than a two-minute, lukewarm shower (seriously family, save some hot water for the rest of us!) sounds pretty amazing. Since we can't leave our homes yet, Pinterest says bathing rituals are the new spa days. Pins for spiritual cleansing baths are up 180%, deep soaking baths are up 145%, and full moon bath rituals are up 90%. Who isn't a little curious about a full moon bath ritual? I know I am.
3. Modern Mystic
Pinterest says that modern manifesting is the new nesting, and this sounds like just the right kind of woo-woo to me. "As Pinners get in touch with their magical side, alternative spiritual methods will enter the mainstream," Pinterest predicts. Pins for protection crystals are up 100%, which isn't surprising given the year we've all had.
4. New and improved charcuterie
It's hard to go wrong with charcuterie, but folks are kicking it up a notch these days. Breakfast charcuterie boards increased fivefold, dessert boards increased threefold, and candy boards were up by 200%. I'm drooling…
5. Creative home decorating
With folks home 24/7, many of us are looking for creative ways to make working from home more comfortable and for ways to make being at home all the time less boring. Neon light pins increased by 800%, "cloffice" (i.e., closet office) ideas bumped up 200%, and even home library designs increased by seven times. On a related note, I'd kill to have a cloffice like this.
6. Athflow
I was today years old when I first heard about athflow, which is basically elegant athleisure. Think flowy pants and casual jumpsuits. Rest assured my work-from-home attire does NOT look like this (nor does my house).
7. Beyond the pandemic puppies
In 2021, Pinterest says people will be looking for pet lizards, frogs, and even snails.
8. Eco-friendly crafts
Gone are the days of glitter in every nook and cranny. Pinterest says parents are focusing on more eco-friendly projects with their kids, like pencil shaving art projects and banana peel fertilizer.
9. Heartschooling
Honestly, this might be my favorite trend of them all. Pinterest predicts parents will "school their kids in mindfulness, moral lessons and real-world teachings."
Here's to a safe, healthy, and Pinterest-worthy 2021!
This article was originally published on