22 Things You'll Love If You Grew Up In The '90s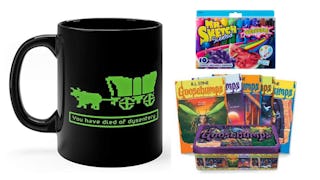 Images via Amazon and Walmart
If you grew up in the 90s, you already know it was the best decade ever for things like frosted tips and boy bands.
But there were also a ton of 90s snacks, products, toys, games, and movies that we loved. We still played outside, because dial-up internet was as slow as it was screechy. Luckily, there's a lot of cool 90s stuff that we can buy all over again, from the comfort of our own homes, because wi-fi is our friend now.
Here are 22 things you'll definitely need in your life if you grew up in the 1990s:
This Goosebumps Retro Set includes five of the all-time bestselling Goosebumps books, including Why I'm Afraid of Bees, Monster Blood, and A Night in Terror Tower. Encourage your kids to read the books you loved as a kid, each with their original cover and an exclusive retro collector's tin.
The original design of the Tamagotchi toy you loved back in the '90s is back. Feed it, clean up after it, make your kids take care of it so they can appreciate what life was like before texting, Instagram, and Fortnite.
This Lisa Frank Coloring Book Set is great for you or for the kids (or maybe one for each of you so you don't fight over them). This set includes 4 Lisa Frank coloring books, which each include 24 designs you'll know and love.
This set of Butterfly Hair Clips will take you way back. You used to wear them to your junior high dances, but now you can use them to get your hair out of your face while you try to catch up on laundry. And you can blast Britney and the Spice Girls while you do it. There are literally no rules saying that you can't.
Most kids from the '90s remember Surge Soda, but did you know they still make it? You can still get this citrus soda by the 12-pack. What a time to be alive.
Before kids were making slime, we had Silly Putty. We used it to copy comics in the Sunday paper, and they were basically the first shareable memes. With this 2-pack, you and your kid can each have one! And you won't have to make more slime. Bonus.
The classic Simon Game you played in the '90s is still available. This is a great game to get for the kids because you'll actually WANT to play along.
These Mr. Sketch Washable Scented Markers will have you feeling super nostalgic as you remember what your childhood smelled like. Again, they are washable, which makes them a great choice for kids of all ages.
Warheads are the super sour candies we loved all through the '90s. And they're still available for those of us who still hold them to the ultimate standard in sour candy.
If sour candy isn't your thing, you almost definitely remember how awesome pizza-flavored Combos were. And I hope you're as excited as I am that they're still available, because YUM.
Choker Necklaces are back and with this 12-piece set, you can have one in just about every color. Or order one for your daughter and tell her stories about the stirrup pants we had to wear when we were her age.
Slap Bracelets were everywhere when we were kids, and now you can get them in a variety of styles and be the coolest parent ever. They also make great party favors!
Love them or don't, but these Steve Madden Platform Sandals were so freaking comfortable. And it makes me happy that they still make them.
This Inflatable Chair was in every cool kid's room in the '90s but now you can have one just for fun. This 36″ inflatable chair is great for the pool, and is designed for kids and teens.
The Beanie Babies we loved are still around, with new faces that you'll love as much as your kids do.
Related: If You Somehow Still Have These Beanie Babies, You Could Strike It Rich
This Hair Crimper is perfect for any '90s-themed party or for any night you want to party like it's 1992.
This Nintendo Entertainment System: NES Classic Edition With Bonus Controller comes with pre-installed with some of our old favorites like Super Mario Bros., Donkey Kong, The Legend of Zelda, PAC-MAN, Dr. Mario, and dozens more. It's not available until Feb 20th, but you can order yours today to have it shipped ASAP.
This Fruit Roll-Ups dream mash-up includes your other favorite snacks: Fruit by the Foot and Gushers. You're welcome.
Almost as good as Rex Manning Day, Empire Records is available on DVD (And Blu-Ray!) so you can relive the classic you watched countless times on VHS.
Name a more iconic movie for this decade than Clueless. Go ahead, I'll wait. (And it's currently on sale for $5.00!)
Don't even act like you didn't have some or want Tarot Cards after you watched The Craft for the fifth time.
The classic computer game you grew up with can now be commemorated with this Oregon Trail Mug. Now everyone can know that you died of dysentery multiple times.
There's no doubt in our minds that this was the best decade to grow up in because, instead of being on our phones, we played out in the yard with our friends until it got dark outside. We still had payphones and paper maps. It was a simpler time in a lot of ways, and all these items can help us feel a little closer to that time when we were happy kids, without bills to pay.
We are a participant in the Walmart.com and Amazon.com Affiliate Programs and may earn fees by linking to Walmart.com, Amazon.com, and affiliated sites.
This article was originally published on