24 Men Arrested After Trying To Lure Kids Using Games Like Fortnite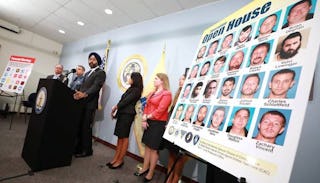 Image via NJ OAG/Michael Mancuso
24 men tried getting kids and teens to meet them for sex using games like Fortnite and Minecraft
In just one state, New Jersey, 24 men were arrested earlier this month for allegedly trying to lure minors into meeting in real life for sex. Their tool of choice to find kids? Video games like Fortnite and Minecraft. This story is horrific, but important reading for every parent with school-age kids.
NJ Attorney General Gurbir Grewal said that members of the Internet Crimes Against Children Task Force set up profiles and pretended to be 14 and 15-year-old players on various games and apps that appeal to kids. Then, they were approached by grown men who thought they were talking to teens.
New Jersey State Police Lt. John Pizzuro tells WPIX News, "As far as some of the games — like for example 'Fortnite,' 'Minecraft,' 'Roblox' — we've had all kinds of cases where individuals are posing as someone else other than a 14-year-old in order to gain someones trust."
The men arrested chatted with officers using games or apps for a day or two and sometimes as long as a week before trying to move the conversation offline and into the "real" world. One is a police sergeant, 47-year-old Richard Conte of the Howell Township Police Department. He thought he was talking to a 15-year-old girl who turned out to be an undercover officer. He's since been suspended from the force.
Over the course of the week-long sting, men ended up going to a house in Toms River where they thought they were going to meet the teen they'd just spent days luring. Instead, they showed up to officers, some the very undercover officers they'd been chatting with, and were arrested.
Authorities called the week-long sting "Operation Open House." Grewal noted, "Surprised would be a fair way to categorize (their) reactions."
NJ.com reports that the arrested men came from all walks of life and were of all ages including a 27-year-old security guard, a 29-year-old nurse, a 23-year-old firefighter, and a 28-year-old physical therapist. 47-year-old hotel manager Thomas Blumensteel was already a registered sex offender. Blumensteel was sentenced to three years in prison back in 1997 for aggravated criminal sexual contact involving a 13-year-old boy. He was working as a church counselor and was "supervising" the child. His charges in the case also included attempted sexual assault on a minor.
And these men were all able to gain access to a "teen" using games plenty of kids play with every day, often with their parents having no idea that adults are possibly trying to contact them using chat features available in games like Fortnite, Roblox, and Minecraft.
All of the 24 men arrested were charged with second-degree luring with some of them being charged with other offenses including attempted debauching morals of a child, attempted sexual assault on a minor, and attempted showing obscene material to a minor.
Grewal says, "It's critical that parents talk to their children about social media and chat apps to let them know that the people they encounter may not be who they initially seemed to be."
As far as ways to stay safe, many apps and games offer different privacy and security settings. My son plays Fortnite, but we've disabled his ability to chat with anyone and he can't change it because it's protected by a password. There are a number of measures you can take to protect your kids including online protection tools and good old-fashioned monitoring. Know what games they're playing and what apps they download. Of course, remind them to never share personal information or photos with anyone.
If convicted, the men all face a minimum of 5 to 10 years in prison and a fine of up to $150,000 for a second degree charge of child luring. They were all detained at Ocean County Jail until their recent detention hearings upon which all but one were released pending trial. Blumenthal, the registered sex offender, is in jail and Conte is on house arrest. Law enforcement tells WPIX the men are all being closely watched.
This article was originally published on