24 Things I Learned In The First 24 Hours Of Being A Preemie Mom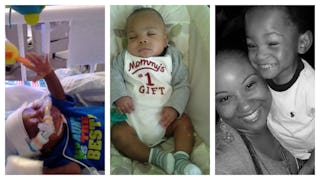 Kaleena Berryman
I became a preemie mom on April 27, 2012. I will never forget that day. I became a different person, and as a first-time mother, it was a crash course in parenthood I wasn't prepared for. On Monday, I was a mom-to-be, just beginning to "show," and by Friday he was out and I was empty. My pregnancy ended 16 weeks early, and I had no idea how we were going to survive the NICU and all of its uncertainty. I couldn't imagine my 1-pound son making it out of there and becoming a full-term baby. It hurt; it hurt like heck.
I will never, ever forget that day.
However, through that pain, I learned so much. Tragedy and love will do that for you — teach you lessons in one day it takes other people a lifetime to learn. My journey with my son, 5 months in the NICU and beyond, has given me a deeper understanding of life. Much of it I learned in the first day of his being here.
Here are the 24 lessons I learned in those first 24 hours.
1. I am strong.
I just gave birth to a baby boy, and I'm not even thinking about the pain. I would get up and walk right now, stitches and all, if it meant I could see my baby. But I can't. I have to wait. And I'm strong enough to do that, too.
2. A mother's love has no conditions.
My baby looks like a creature from space — incredibly small and frail — and I think he's the most beautiful thing I've ever seen. One pound of pure awesomeness.
3. My mother was right.
I don't know what she was right about for sure, but something tells me as I travel this road, I'll find many things she had spot on. Yeah, she knew what she was talking about.
4. I will miss all I missed.
No first cry. No long bonding moment. No tears of joy. I will not have those moments with this child. And it makes me sad. But there will be others, and I will appreciate them so much more. So. Much. More.
5. Pregnancy is important.
The next time, I'll rest. I'll relax and take it easy. I'll cherish it. I'll let everyone cater to me. I'll make sure not to miss a single minute.
6. One-pound babies can grow and live, and there's a place they do it in.
It's called the NICU. I never knew it existed until now. Soon the NICU will be my home. It already has my heart.
7. I was listening in church.
I know how to pray. I'm so glad I believe I have God's number. I've prayed more since becoming a mom than all of the years before, combined. I'm praying as if my child's life depends on it. I can't do much, but this I can do.
8. I really, really want to be a mother.
And I want to be a mother to this child. I was silly for wanting a girl or worrying about labor pains. All that matters is that my child survives. I want to love this child so badly.
9. I am not alone.
Everyone is here, surrounding me. I am loved. My child is loved. I have the greatest family and friends a girl could ask for. My life is filled with reasons to be grateful. I need to thank them more.
10. My husband, my man, is amazing.
He's scared to death but still protecting me. He's worried about both of his babies. He's really showing me I made a good choice. I'm blessed to have him. I need to thank him more.
11. Yes, your heart can really break.
It can break in two and make you feel like disappearing. The love for your child can do that to you. No one wants to lose their baby. The fear of it alone hurts more than can be explained. My heart is actually, really, broken. Millions of pieces scattered in the hall that leads from my room all the way to his incubator.
12. People have it all wrong when they talk about their pregnancies.
I believe a healthy baby and healthy pregnancy is all they should ask for. A healthy, happy baby and mommy. That they leave the hospital well and together as planned.
13. I would sacrifice everything for this child.
If God gave me a choice, I would do anything to keep my baby here. I would give the world. I would give my life.
14. Doctors don't know everything.
They said he may not survive. But I can see it in his eyes. My baby has what it takes. He's planning to be here and they will have to chalk it up to miracles.
15. You can survive the worst day of your life.
I just did.
16. It's OK to be honest.
I'm scared. I feel guilty. And I really need all of you right now. If you leave me alone, I will get lost in my sadness. So, please stay.
17. Babies are stronger than we think.
Look at him, fighting to be here and he doesn't even know what "here" is. He's only 1 pound, but he's taking it all in stride. I should do the same. I need to put my big-girl undies on.
18. I can be mean.
Mess with my baby and feel my wrath.
19. Parenthood is no joke.
Most parents have just the fluffy stuff for the first few years of their child's life. But preemie parents jump right into "my child might die" mode. We gave birth to a baby who needs life support. Decisions have to be made. Their life is in your hands. Being a parent is major. It can get real, real fast.
20. My kid is special.
His dramatic entrance will make him the most prayed for and talked about baby around. He will survive and his story will follow him all the days of his life. People will introduce him forever with the words, "Do you know he was born just 1 pound?" Folks will be amazed. And that's pretty cool. I believe God will get the glory. He will change lives.
21. I believe prematurity happens too frequently around the world.
Something needs to be done. No one should have to go through this.
22. I should have enjoyed the peace-of-mind more.
Peace of mind is a blessing. I believe it's a gift from God. It means all is well. The next time I have it, I will thank the heavens for it.
23. There's so much more to life than this.
Life is beautiful and deep. The journey deserves our attention. It deserves our reflection. Stay in the moments and appreciate all of the good. You will need it to hold on to when things get rough or when pregnancies don't go as planned. My life is filled with moments missed. I can't let that happen anymore.
24. The little things are all that matter.
Now that I'm a preemie mom, I understand this. Encourage. Practice kindness. Be grateful. Health, happiness and strength are so important. Be thankful for all of the things that make every day worth living. They aren't on TV and they don't cost any money. They can be found in the people we love, the things that make life beautiful. And oftentimes, they can be found in small incubators, in crowded NICUs, fighting for the chance to grow, love and thrive.
Originally published on The Mighty.
This article was originally published on