25 Ways Santa Barbara Will Steal Your Family's Heart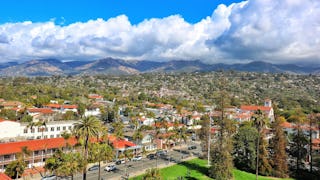 Lindsay Ferrier
If anyone can live wherever they want, it's Oprah Winfrey — so it's telling that when the billionairess put down roots, she did it in Santa Barbara. Now that my family and I have spent a couple of days in this little piece of heaven, I can totally understand why.
Want a climate that's seemingly controlled by unicorns? Breathtaking scenery with views of both the Pacific Ocean and the rugged Santa Ynez Mountains? Shopping for every taste and price range? Delectable, fresh-off-the-boat seafood? History? Culture? Outdoor activities? Kids' stuff?
Santa Barbara's got it all, my friends, and while celebs love its luxury offerings, you'll also find plenty of awesome budget-friendly ways to make the most of your family getaway.
I've made the planning easy for you with this list of our top picks for an unforgettable Santa Barbara vacation.
PLAY
MOXI
You won't lack for things to do here. Santa Barbara isn't your average sleepy beach town. On busy State Street, you'll find MOXI, a 17,000 square foot science museum filled with state-of-the-art exhibits that basically make this place the coolest indoor playground ever. Here, you can build and test your own race car, add sound effects to actual movie scenes, mix your own tunes on the museum's wondrous Sound Machine, check out the views from five different scopes on the rooftop Sky Garden, and a whole lot more. My 10-year-old could easily have spent the entire day here. Admission is $14 for adults, $10 for kids.
Cabrillo Beach Bike Path
I can't think of a better place for a family bike ride than Santa Barbara. Rent bikes at one of several rental companies along the waterfront and hop on the 4.5 mile long Cabrillo Beach Bike Path, a flat, paved trail that runs from downtown Santa Barbara to Butterfly Beach in Montecito. Enjoy gorgeous views of the ocean and stop for lunch, shopping, or a bracing dip in the water along the way.
Butterfly Beach
Santa Barbara has lots of beaches to choose from, but locals especially love Butterfly Beach, located across the street from the Four Seasons Resort in nearby Montecito. Enjoy the surf and sun and be sure and stay for a gorgeous sunset. This westward-facing beach is the perfect spot for family photos during that much-coveted golden hour. Visit this beach on a weekday if you can — it's a popular spot and parking on weekends can be difficult.
Santa Barbara Museum of Natural History
You won't have trouble convincing your kids to visit the Santa Barbara Museum of Natural History. Chad, a 74-foot blue whale skeleton at the museum's entrance, is all it takes to lure even the youngest children inside. It will take you about an hour to make your way through this 100-year-old museum and its outdoor nature trail, both of which have plenty of hands-on activities and exhibits that younger children in particular will enjoy. While you're there, be sure to look for the fish hook and arrow point said to have once belonged to Juana Maria, the real-life Karana from Island of the Blue Dolphins.
Old Mission Santa Barbara
Afterward, be sure and stop by Old Mission Santa Barbara, a stunning 1820 church originally established to convert the Santa Ynez Band of Chumash Tribe to Catholicism. Take a quick self-guided tour through the building and its courtyard gardens. Entice the kids to come along by informing them that Island of the Blue Dolphins' Karana is buried on the grounds here somewhere, in an unmarked grave. Admission for adults is $9 and $4 for children 17 and under.
Moreton Bay Fig Tree
It won't cost a thing to visit Santa Barbara's famous Moreton Bay Fig Tree on the corner of Montecito and Chapala Streets. Planted in this spot by a little girl back in 1877 from a cutting a sailor brought over from Australia, today the fig tree is 80 feet tall and spans more than 175 feet. It makes for a great photo opp — but good luck fitting the entire tree in the picture!
Santa Barbara Harbor
Head to Santa Barbara Harbor and choose your own adventure. Book seats on a seal-watching, whale-watching, or sunset cruise, rent kayaks, learn to sail, go fishing, or buy fresh seafood from the fishermen who caught them. The harbor is also your departure point for kayak tours of the unforgettable Channel Islands, located 25 miles offshore. Known as the "American Galapagos," these federally protected islands are teeming with wildlife and natural wonders.
Stearns Wharf
A short walk from the harbor, you'll find Stearns Wharf. Built in 1872, it's California's oldest working wharf. In addition to shops and restaurants, you'll definitely want to check out the popular Sea Center, where your fam can learn about sea creatures and even touch sharks, sting rays, and more.
Santa Barbara Zoo
Just up the beach, you'll find the Santa Barbara Zoo. Known as the "World's Most Beautiful Zoo," you'll see more than 500 animals here, including gorillas, giraffes, foxes, condors, and Humboldt penguins from South America.
Shopping on State Street
Everyone will have fun shopping along State Street in downtown Santa Barbara. There truly is something here for anybody, whether you have two dollars to spend or two thousand. My kids loved Game Seeker, a shop filled with thousands of board games and puzzles, and comic book mecca Metro Entertainment. My stepdaughters and I spent lots of time in the many vintage shops lining the streets. I ended up with a pair of Jackie O-style sunglasses and a half-price red wool hat.
Santa Barbara County Courthouse
While you're downtown, be sure and climb to the top of the clock tower at the historic Santa Barbara County Courthouse. Built in 1929, this still-functioning courthouse feels like the inside of a time capsule, and the views from the top of the four-sided clock tower are spectacular. Don't forget your camera!
EAT
La Super-Rica
The long line of people waiting to order food at La Super-Rica immediately lets you know this affordable Mexican eatery is something special. Foodies regularly queue up to get their hands on La Super-Rica's inexpensive tacos, tamales, and the sumptuous Super Rica Especial. This place was a huge favorite with Santa Barbara resident Julia Child, so you know it's got to be good! One note: La Super-Rica is closed on Wednesdays.
McConnell's Fine Ice Creams
You can't shop State Street without a stop at McConnell's Fine Ice Creams. In operation since 1949, you'll find delicious made-from-scratch flavors here like Banana & Salted Caramel, Eureka Lemon & Marionberries, and Turkish Coffee. Take it from us, this ice cream is delicious!
Santa Barbara Shellfish Company
Seafood is a requirement when you're in Santa Barbara. One no-frills favorite is the Santa Barbara Shellfish Company on Stearns Wharf. Locals and tourists alike flock here for the fresh steamed local crab, coconut shrimp, and lobster bisque. And the view from the outdoor tables can't be beat!
Milk & Honey Tapas
For a more sophisticated evening out that won't break the bank, we loved Milk & Honey Tapas. We found something on the menu to suit everyone at small-plate prices that worked for our budget. Our kids were crazy about the PB&J sliders (ground sirloin, peanut butter, and raspberry jam!), while we especially loved the homemade kale chips and Carne Con Crema. While you're there, be sure and order a Ginspiration Point, Santa Barbara's signature cocktail!
Chocolate Maya
We were so happy to find Chocolate Maya, we visited twice during our two-day trip! Here, you'll find ethically-sourced, homemade truffles and innovative molded chocolates that are truly out of this world. We came for the candy, but stayed for the decadent hot chocolate that made us feel like we were drinking the center of a molten lava cake. Sooooo good!
STAY
Kimpton Goodland Hotel
Rooms in Santa Barbara can be pricey. I mean, there's a reason celebrities love to vacation here. One easy way to make the stay more a lot more affordable is to bed down in nearby Goleta. We loved our rooms at the retro-chic Kimpton Goodland Hotel, which features surf-inspired decor and a turntable in every room. The Best Western Pepper Tree Inn also gets high marks from travelers, as does the Hampton Inn Goleta.
Best Western Encina Inn & Suites
In Santa Barbara proper, your best affordable bets include the Holiday Inn Express, the historic Franciscan Inn, and the Best Western Encina Inn & Suites.
Whether you spend a few days in Santa Barbara or a week, you'll find plenty to do in surroundings that approach paradise. My guess is, just like Oprah you won't want to leave.
This article was originally published on