The Cast Of '27 Dresses' Reunited And Be Still All Of Our Hearts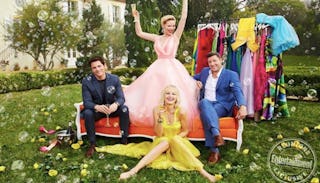 Image via Instagram/Entertainment Weekly
The cast of 27 Dresses reunited for a nostalgia-filled photoshoot
Valentine's Day is just around the corner so that means you should be loading up on all of your favorite romantic comedies. First up? 27 Dresses, which features the deeply universal theme of people-pleasing, a delightful karaoke scene, and James Marsden's smile. Thankfully for all of us, the cast of the iconic rom-com recently came together in celebration of V-Day, and it was a nostalgic dream come true.
Katherine Heigl, James Marsden, Malin Akerman, and Edward Burns reunited for an Entertainment Weekly photoshoot, where they talked about the film's legacy, behind-the-scenes memories, and – of course – Bennie and the Jets.
Heigl said that her character Jane – who has been a bridesmaid in 27 weddings because she could never say no – wasn't so far off from her own reality. ""I really related to Jane,"" she said. ""My experience [in my 20s] was being a people pleaser, trying to make people happy. I understood her mind-set.""
Aline Brosh McKenna, who penned the film, added that the themes seem to resonate even more with time, given the fact that weddings and bridal showers and bachelorette parties have become bigger, more over the top traditions in the years since the film came out. ""It''s only gotten crazier,"" McKenna noted. "Everybody''s entire life is a photo shoot."
McKenna also broke down that classic Bennie and the Jets karaoke scene and explained that she chose the song because literally nobody knows the actual lyrics. "It''s a song that you don''t know the words to that you sing with a tremendous amount of confidence,"" she said.
Yup, yup. Long live "electric boobs."
If this reunion is giving you a sudden hankering for much, much more quality time with the whole 27 Dresses crew, there might be some promising news on the horizon. Heigl pitched her own idea for a sequel and said that Anne Fletcher, the film's director, is into it.
"I think it would be awesome to see, seriously, what are their lives like 10 years later? Do they end up together? I personally think they did,"" she says. ""I think [Tess and George] have, like, three kids and she''s made Jane the godmother every time, so Jane has to plan the christenings and the baby showers and the gender-reveal parties, but then all the other bridesmaids [also] make her the godmother. But [Jane and Kevin] can''t get pregnant.""
Sigh. Here's hoping. In the meantime, we should all probably go rewatch the original and cheer very, very loudly during that scene when all the brides have to wear all those horrible bridesmaids dresses. Nothing is more satisfying.