28 Tweets That Capture The Festively-Stressful Feeling Of Christmas Shopping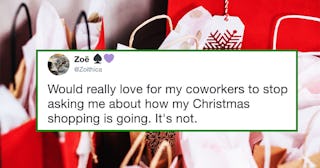 Zoithica/Twitter and freestocks/Unsplash
Unless you've committed to a strictly minimalist existence, you're probably Christmas shopping (or at least, telling yourself you need to start). And if you're like a lot of people, you might have a love-hate relationship with it. After all, nothing else rivals its unique mix of holiday fun and added stress: The decorations! The Christmas music! The festive feeling in the air! … The crowds. The impact to your wallet. And that looming deadline of December 25th.
At the very least, Christmas shopping is a favored topic of small talk this time of year, which is nerve-wracking AF for the introverts among us.
Shopping for kids can be particularly stressful, because you never know when they're going to change their minds. Again.
Then there's the waiting, which is the hardest part for those of us who just get so. damn. excited to show the lucky recipients their gifts.
That wait is a little longer for those of us who like to get it knocked out early so we can enjoy the non-shopping aspects of our holiday season.
But the waiting period is practically nonexistent for those of us who take a bit more of a … "last minute" approach.
We know it's supposed to be fun and festive, but Christmas shopping can definitely be … a little on the stressful side.
See??
Early shoppers and procrastinators do have one thing in common though: once we get started, it can be hard to stop.
It can be a challenge to buy for others (and to stop buying for others), but it's always such a breeze to decide what we want.
Which is basically why this happens:
But really …
No. No it isn't. We deserve a little something-something after all that Christmas shopping stress, right?