3 Students Injured After Teacher Accidentally Fires Gun In The Classroom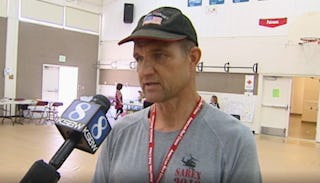 Image via KSBW News
A high school teacher accidentally discharged his firearm while teaching a lesson on gun safety
Days after Florida voted to arm its teachers, a California high school teacher accidentally fired a gun in class.
The accidental shooting happened Tuesday while the teacher, who's also a reserve police officer, performed a gun safety demonstration during an administration of justice class.
Feeling safer yet?
Seaside High School teacher Dennis Alexander was pointing the gun at the ceiling of the classroom when it discharged. Pieces of the ceiling fell off, striking one student in the neck. The student's father, Fermin Gonzales, told local news station KSBW that the 17-year-old boy suffered moderate injuries from the bullet fragments. Another two students were injured, but not seriously.
Moments before the accidental shooting, Alexander told students he was going to check to make sure the gun wasn't loaded, according to Gonzales. The teacher was about to use the gun in a demonstration about how to disarm someone. Instead, the students got a lesson in what can go wrong when guns are brought to school.
It's illegal in California for teachers to have guns in schools — even if they have a concealed carry permit. Alexander has been placed on administrative leave from both his teaching position and the police force.
"I have concerns about why he was displaying a loaded firearm in a classroom. We will be looking into that," Sandy City Police Chief Brian Ferrante told KSBW.
The school sent home a letter to parents explaining the "personnel incident."
It would be great if incidents like this put an end to all the talk of teachers being armed in the classroom.
As a police officer, Alexander received training in how to properly use and store firearms. He's been with the Sandy City police force for 11 years, and Ferrante described his record as "positive and professional." He should've been the model for arming teachers, but the accidental shooting stands as a stark reminder of what can happen when even professionally trained gun owners bring guns to school.
There were 489 people killed in accidental shootings in 2015, the most recent year for which data is available, and more than 33,000 people were injured by accidental shootings in the same year. These numbers are staggering, but they're actually an improvement: Accidental shooting deaths have decreased 48 percent from 1999 to 2015.
Experts attribute this decline to a combination of factors, such as gun safety education programs, state laws regulating gun storage and a decline in the number of households that own guns. But while the number of accidental gun deaths declined in every state, the states with the most guns and the fewest gun laws still have the highest number of deaths.
With more states considering arming teachers, it begs the question: Will arming teachers make students safer at school? Or will it put them at risk from accidental shootings at the hands of well-meaning teachers like Alexander?