3-Year-Old Girl Perfectly Sings 'Part Of Your World', Wins Over The Entire Internet
by Valerie Williams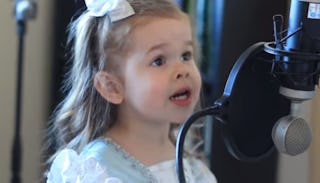 Image via YouTube
This little girl nails "Part of Your World" in what may be the cutest viral video ever.
Kids today have "Frozen" and "Tangled" but our generation had Ariel, Jasmine and Belle. "The Little Mermaid" was a huge, Frozen-like deal when most of us were children and it hasn't lost its magic at all. Solid proof of its timeless appeal is this adorable viral video of the world's cutest 3-year-old girl singing "Part of Your World". Are you prepared for cuteness overload? Because it's coming.
Claire Ryan Crosby loves to sing. The Utah toddler may only be three, but she's already got a set of pipes that will give you chills. Her father Dave has an idea of her talent based on the reactions of total strangers when she lets loose with that sweet voice. He recounts to KSL a story of Claire captivating a small crowd with a recent impromptu performance. "A few months ago, I was paying for an oil change, and when I turned around, Claire was singing Little Mermaid in the lobby while everyone had their phones out recording her."
Just reading that, you might think this is simply a dad with a teeny bit of a bias. I mean, how good can a 3-year-old's voice really be? Well, very freaking good, as it turns out. Check out little Claire totally nailing "Part of Your World" in a video produced by her dad, who writes music for movies and freelances for a film company. It's already at over 600,000 views and will certainly gather many more.
Hopefully, you've recovered from that onslaught of adorableness so we can talk about how totally great this is for so many reasons. Obviously, this beyond cute and talented kid singing better than most adults is note-worthy and has gone viral for all the right reasons, but can we talk about how Ariel was the original Elsa? Misunderstood and wanting to leave her family and the only home she's ever known because she felt different. Other than going for the prince, it's a pretty familiar tale and looking back, it's easy to see why so many of us obsessed over it as kids.
As part of that 1980s crew of "bright young women, sick of swimming, ready to staaaaand", this video touched a chord in me as I'm sure it will many moms. Her sweet innocence as she sings the lyrics made me remember my second grade recess periods spent singing this song with my friends on top of snowbanks while we all dreamt of being mermaid princesses. It's nice to see it hasn't been forgotten amid the current Elsa-obsessed preschool populace.
And as for Claire and her father, this video is such a sweet way for them to bond. He recorded her singing and wove it in with footage of the editing process, which he says his little girl loved, and the result is not only fun for us to see, but a beautiful memory for the dad and daughter. Claire can see this video one day and know how much her father supported her talent. It's truly heart-warming.
Dave tells KSL that Claire has her sights set on recording "Let It Go" next, so we doubt we've heard the last of this amazing little girl. And that's a wonderful thing.
This article was originally published on