Over 300 Newspapers Reject Trump's Attacks: 'Journalists Are Not The Enemy'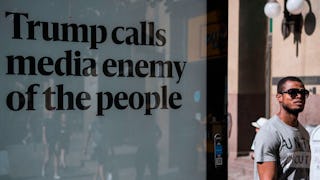 Image via JONATHAN NACKSTRAND/AFP/Getty Images
Newspapers everywhere remind us they work for the people, not the government
Hundreds of newspapers across the country are showing solidarity with one another this week to fight back against Trump's attacks on the press. Last week, the Boston Globe asked for publications nationwide to publish editorials that openly reject Trump's repeated attacks on media outlets — and over 300 of them did just that.
"A central pillar of President Trump's politics is a sustained assault on the free press," the Globe writes. "Journalists are not classified as fellow Americans, but rather 'the enemy of the people.' This relentless assault on the free press has dangerous consequences."
News outlets everywhere followed through with the Globe's request and have published editorials that all have a unique voice but the same message: "journalists are not the enemy."
A piece in the New York Times slams Trump for his unjustified criticism of the news media. "News reporters and editors are human, and make mistakes. Correcting them is core to our job. But insisting that truths you don't like are 'fake news' is dangerous to the lifeblood of democracy. And calling journalists the 'enemy of the people' is dangerous, period."
"The media is the enemy only if you don't want to know what your government is doing," says the Bangor Daily News. "News organizations don't serve governments. They serve you, the public."
Now there's a powerful reminder. It's something that was drilled into my head as a young journalism student during my freshman year in 2003: News organizations serve the public. They serve to inform and educate the people — something Trump and his administration have been relentlessly trying to manipulate since before he took office.
"Americans may not like the news they see or hear but they should not hold that against those who report it," TriCorner News from The Lakeville Journal Co. in Lakeville, Conn., writes. "In short, don't shoot the messenger."
Trump, who has made no secret of his distaste for all things media-related, predictably weighed in on the massive editorial endeavor by slamming the Boston Globe, using the "fake news" ad hominem — the main reason behind this project in the first place.
The Globe's deputy managing editor, Marjorie Pritchard, tells NPR that the editorial project shouldn't be seen as an attack against the Trump administration's agenda. "It's a response to put us into the public discourse and defend the First Amendment."
It's incredibly powerful so many newspapers and outlets are running editorials today that condemn Trump and the attack on our free press. Even more powerful is the continuation of this movement by thoroughly reporting each and every line item of corruption and authoritarian madness this administration takes part in every single day this godforsaken madman is in office.
This article was originally published on