We Love 'Want, Need, Wear, Read' Every Year––But Especially This Holiday Season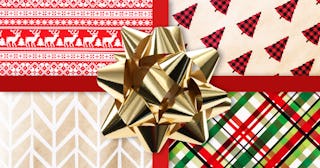 Scary Mommy, David Arky/Getty, Kari Shea/Sincerely Media/Unsplash and Sarah Pflug/Burst
Parents have heard of the 4-gift rule for years. If we want to keep Christmas enjoyable but not over-the-top, we should follow the rule when it comes to giving presents to our children. If you need a refresher, the 4-gift rule means we get each of our kiddos something they want, something they need, something to wear, and something to read. Yes, it's that simple.
We can breathe a collective sigh of relief. We don't have to over-buy for our kids, go into credit card debt, and run around frantically from store to store in the midst of a global pandemic. The 4-gift rule is more appealing this year than ever before, for several reasons.
The 4-gift rule keeps us home more.
In seasons past, we would make multiple, extra trips to the store for "just a few things," making sure our kids had an equal amount of gifts and stocking stuffers. This year, we are staying the heck out of the stores as much as possible. We're ordering online and doing store drive-up as much as we can, which is much easier with less to buy.
The 4-gift rule is budget-friendly.
With job changes this year, many parents are struggling with their holiday budget. The 4-gift rule helps us establish (and stick to) a plan that doesn't drain our bank accounts or leave us with a huge credit card bill in January. Save even more money by shopping early and comparison shopping, plus utilize store price-matching policies.
The 4-gift rule simplifies gift-giving.
Every year in social media groups, I see parents posting that they just don't know what to get their kids. After all, their kids already have all-of-the-toys-and-electronics. I love Christmas as much as the next parent, and I want my kids to enjoy the holiday. However, I don't want gift-giving to become a dreaded chore. I love that there's a "rule" I can follow instead of scrambling to find too much that they won't appreciate. Plus, the items they receive are things they actually need and will use.
The 4-gift rule helps kids prioritize.
My kids have circled every toy in every catalog, again. However, they are well aware that we are not buying them all of the things. When kids know that their parents are sticking to the 4-gift rule, they have to prioritize what they want, and those items have to fit in the four categories. My kiddos have already made their "Dear Santa" letters in which they've outlined what they want most.
The 4-gift rule applies to stockings, too.
We apply the 4-gift rule to stockings, as well as to bigger, wrapped gifts. Stocking are usually four items including a rolled-up tee shirt, a favorite snack, (another) book, and a small toy, such as a Lego set. I don't bother buying a lot of cheap junk, which only gets broken, tossed, or unused anyway. Instead, we budget for a four nicer, desired, useable stocking gifts. These are usually surprise items, not ones the kids have put on their wish lists.
The 4-gift rule eliminates the guilt.
Often parents work hard to make gifting perfectly fair between their kids, which can become a budgeting and shopping nightmare. By giving the kids four gifts each, we don't always worry about making the gifts financially equal. Instead, we consider our overall budget, who wants (or needs) what, and then make our decisions. We haven't had any complaints yet.
https://www.instagram.com/p/B6LhXTOADup/?utm_source=ig_web_copy_link
The 4-gift rule works for partners, too.
If you have a partner, it can be so hard to know what to get them for Christmas. I see posts in social media groups all the time this season, posters begging for "what to get my partner" suggestions. First, we don't have to buy gifts for our partner—FYI. However, if we choose to, why not follow the 4-gift rule? There's a clear expectation with some wiggle room for creativity and surprises.
The 4-gift rule can extend beyond your immediate family.
It's hard to know what to get your boss, your neighbor, your BFF, or your parents. If you want to go beyond the generic gift-card, apply the 4-gift rule. Again, these don't have to be expensive items. This year, I bought my mother-in-law a book I'd read earlier this year that I loved, for example. Tech-gloves are always a hit and are only a few dollars a pair. If you have grandparents or other relatives who like to buy way too much for your kids, consider suggesting that they switch to the 4-gift rule this year.
This Christmas is going to look a lot different this year, but that doesn't mean we can't have a merry-and-bright season. Certainly, 2020 is going to require some creativity and flexibility, but I'm certain that we can do it. The 4-gift rule is one way we can have a holly jolly Christmas with our family.
This article was originally published on