Girls Escape Attacker By Throwing Slurpees And Fighting Back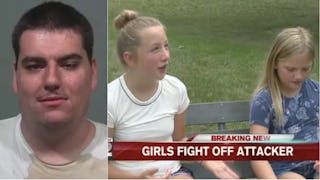 Image via ABC12 News
They threw drinks they'd bought at a convenience store to escape their attacker
Last Friday, four middle school girls fought off an alleged kidnapper who now faces unlawful imprisonment, assault and battery, and two criminal sexual conduct charges. When their attacker grabbed them after following them from a convenience store, they thought quickly — and fought back.
The girls, ages 11-14, were leaving a Speedway when they noticed they were being watched. 22-year-old Bruce Hipkins had been eyeballing the group, a gross fact later confirmed by surveillance footage from the store. When the young girls left and crossed the street to escape him, he followed them.
Millington Police Chief Jason Oliver tells ABC News 12 that the girls did the right thing. "They decided to go across the street where the lights are, to a lit area," he said.
But Hipkins was undeterred.
Lauren Eickhoff, 13, says it was her 11-year-old sister that he went after first. "(He was) behind my sister and I screamed, 'Allison' and then he attacked." Allison says, "He said, 'you're coming with me'. And like, he grabbed my face." At first, the little girl thought the attack was some kind of joke. "This can not be happening, I thought it was a test at first but them I'm like, 'this is real'," she says.
The group of girls and their attacker were in front of a Dollar General when the attack happened — and they used their drinks from the convenience store to ward Hipkins off. "I grabbed my drink and chucked it at his head. I tried, I punched him in the head," says Lauren. Her drink was a hot coffee. That got Hipkins to release Allison — and then he went after their 14-year-old friend.
"He grabbed another one by the hair after he had let the little one go, and they continued to kick and punch him and scream until they let go and ran off," Oliver said.
The Eickhoff sisters explain that their dad taught them what to do if someone ever tried to hurt them.
"My dad taught me a few moves," Allison tells BuzzFeed News. "He taught me if anybody tries to get you, just aim for the neck and start punching, kicking, screaming, everything you can do to just get them away."
Though the girls were all pretty shaken, none of them were physically hurt during the ordeal — but the mental and emotional trauma is very real. "I'm feeling good, I'm just scared to go outside by myself and go around, but I'm doing okay," says Allison.
Hipkins is in jail on $250,000 bond.