4-Year-Old Wears Her Late Mom's Wedding Dress In Bittersweet Photos
by Sarah Hosseini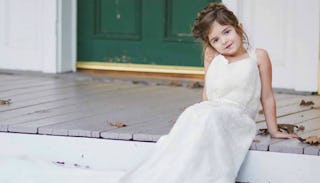 Image via My Three Arrows Photography
Little girl fulfills her mother's wish by wearing her wedding dress for a beautiful photo-shoot.
This is one of those things that makes you cry and smile at the same time. Beautiful and heartbreaking.
Four-year-old Nora Davis, of North Carolina, dressed up in her late mother's wedding dress for a photo-shoot her mom arranged before she died. Amber Davis wanted her daughter to have her hair styled, wear her exquisite, lacy wedding dress, and be photographed at the same wedding venue where she and husband Derek got married.
Amber's close friend and photographer for the shoot, Heidi Spillane, said the two had planned it for awhile, but when it got to the actual day it was very emotional for her.
"When I got there and saw Nora in the dress, it's one of those moments where it takes your breath away," Spillane tells Scary Mommy. The breathtaking beauty and uplifting spirit radiating from Nora is what kept Spillane from breaking down.
"As soon as I saw the little girl's face and saw how proud and happy she was, in doing something that her mommy loved – as emotional as it was – it was beautiful to see how connected she was to her mom," says Spillane, owner of My Three Arrows Photography. And so, she got to work on her friend's dying wish.
Amber was diagnosed with a rare type of cervical cancer called neuroendocrine carcinoma in February 2014 and died a year and a half later, according to Today. She had three children.
"Nora is her only daughter, all about girly stuff always pampering her and doing her hair," Spillane says.
Even though the two had organized this photo-shoot and several other family sessions awhile ago knowing that Amber's cancer was very serious, Spillane didn't think she would have to do it without her friend there.
"We never let ourselves believe that it was going to take her from us. It wasn't real to us," Spillane says. "I always imagined she was going to be there, we thought she was going to beat it."
Anyone that's had a close family member go through an illness like that knows this feeling all too well. Even when you're delivered the gravest news, you try to believe in and hope for a miracle to happen. While her physical absence undoubtedly hurts for everyone in her life, Amber did something to ease this pain for her kids though, she told them it wasn't going to be forever.
"Her faith was a huge part of the way she was, such faith, she wanted everyone to know that they were going to see her again," Spillane says. "She told them they don't have to be sad, because she will see them again."
Through her faith and impeccable planning, Amber made sure her kids had a way to stay connected to her after she was gone through capturing precious moments like these. Her friend also said that Amber wrote out journal notes to everyone in her life telling them everything she wanted them to do with, or for, her kids.
"She was an amazing mom, that was her goal in life to be a great mother," Spillane says. "She was amazing at everything and had a way of making everyone feel special."
This article was originally published on