Mom's Viral Post Proves How Much Parents Need Their Village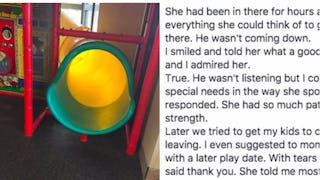 Image via Facebook
Her story proves a little support can go a long way
A mom shared an encounter she had with another mother, and her tale displays how meaningful a little understanding and compassion between fellow parents can be. Especially in a world in which such displays are so shamefully rare.
Stacey Waltzer runs the blog 40 Wishes and Counting, where she writes about "the adventures and thoughts of a 40 year old who is far from over the hill," which include the trials and tribulations of having two kids under five years old.
On her Facebook page, she shared a recent encounter she had with another mom at what looks like a fast food play space.
In her post, Stacey writes, "She had been in there for hours and was trying everything she could think of to get her son out of there. He wasn't coming down."
This fellow mom was having trouble coaxing her son down from inside a slide. Hours of trouble. Because according to Stacey's post, the boy who wouldn't come down from the slide had special needs.
"He wasn't listening but I could tell he was special needs in the way she spoke to him and he responded. She had so much patience and strength."
Stacey stuck around to help, and in doing so, she reminded us how much a little help can mean.
"Later we tried to get my kids to coax him into leaving. I even suggested to mom we can bribe him with a later play date. With tears in her eyes, she said thank you."
Stacey's conversation with her fellow mom also reminds us how rare that help and feeling of community can be.
"She told me most moms look at her like she has a communicable disease. How heartbreaking."
Heartbreaking indeed. Not everyone can relate to having a special needs child, but we should all be able to relate to the challenges of children in general, especially when it comes to getting them to listen and attempting to get them to leave a playground, or a play date, or leaving anything they're absorbed in without a fight.
And guess what? It turns out the kindness Stacey showed is contagious.
"The next thing we knew other kids in the play area were offering up help…Eventually she was able to get him out praising him on his good choices."
Parenting isn't easy for anyone, particularly not for parents of children with special needs.
It's easy for us to get so wrapped up in our parenting challenges that we often overlook, ignore, or judge other parents in the midst of their own struggles. But more often than not, just offering to lend a hand, to lend a non-judgmental ear, can make all the difference in the world.
All of us would do well to remember the closing words of Stacey's moving post:
"So next time a mama is struggling… think about it. Think about what you would want to hear in that instant. Think of the courage it took. Think. Then offer kindness. It matters. Every little bit matters."
Kindness shouldn't only be something we teach our children. It should be something we practice ourselves. It does take a village. We need to be each others' village.
This article was originally published on