Here Are The Victims Of The Orlando Massacre: 'They Are More Than A List Of Names'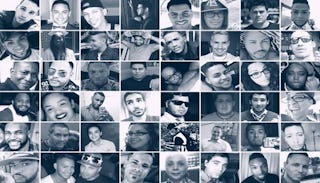 Image via Buzzfeed News/ Facebook
Photos and stories emerge of the victims of the Orlando massacre
"We begin tonight with their names, the names of the 48 out of 49 people who have so far been identified — victims of the deadliest mass shooting in American History," began Anderson Cooper on his CNN broadcast last night. "A massacre that happened at a gay nightclub just a block from where I'm standing just down that road two nights ago."
Cooper read the names of the victims, showed their photos, and told a little bit about each one. He was moved to tears, as most of us have been over the last few days. "They are more than a list of names," said Cooper. "They are people who loved and who were loved."
The Orlando Sentinel has a beautiful memorial to the victims. They are compiling stories for each person who lost their life that horrific night. These are people who were loved. They each have stories, as we all do. Read their stories. Speak their names. Look at their pictures.
Thank you, Orlando Sentinel, for telling their stories.
Stanley Almodovar III, Age 23
Amanda Alvear, Age 25
Oscar Aracena, Age 26
Rodolfo Ayala, Age 33
Darryl R. Burt II, Age 29
Jonathan Camuy, Age 24
Angel Luis Candelario-Padro, Age 28
Omar Capo, Age 20
Simon Carrillo, Age 31
Cory James Connell, Age 21
Tevin Eugene Crosby, Age 25
Anthony Luis Laureano Disla, Age 25
Deonka Deidra Drayton, Age 32
Leroy Valentin Fernandez, Age 25
Mercedez Marisol Flores, Age 26
Peter O. Gonzalez-Cruz, Age 22
Juan Ramon Guerrero, Age 22
Paul Terrell Henry, Age 41
Frankie Hernandez, Age 27
Miguel Angel Honorato, Age 30
Jimmy De Jesús, Age 50
Javier Jorge-Reyes, Age 40
Jason Benjamin Josaphat, Age 19
Eddie Jamoldroy Justice, Age 30
Christopher Leinonen, Age 32
Juan Chavez Martinez, Age 25
Brenda Lee Marquez McCool, Age 49
Gilberto Ramon Silva Menendez, Age 25
Kimberly Morris, Age 37
Akyra Murray, Age 18
Joel Rayon Paniagua, Age 31
Jean Carlos Mendez Perez, Age 35
Enrique L. Rios, Age 25
Eric Ivan Ortiz Rivera, Age 36
Jean Carlos Nieves Rodriguez, Age 27
Christopher Sanfeliz, Age 24
Edward Sotomayor Jr., Age 34
Shane Evan Tomlinson, Age 33
Martin Benitez Torres, Age 33
Luis Vielma, Age 22
Luis Daniel Wilson-Leon, Age 37
Jerald Arthur Wright, Age 31
The Orlando Sentinel will be posting stories of the rest of the victims as soon as they come available.
Alejandro Barrios Martinez, Age 21
Juan P. Rivera Velazquez, Age 37
Luis Daniel Conde, Age 39
Yilmary Rodriguez Solivan, Age 24
Geraldo A. Ortiz-Jimenez, Age 25
This article was originally published on