5 '80s Icons Besides the Millennium Falcon We'd Love to See As Legos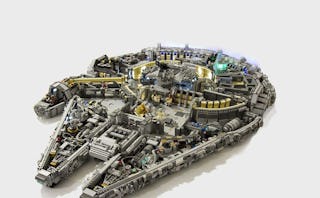 Titans Creations
Lego uber-geek squad Titans Creations is drawing attention and praise for their 10,000-piece replica of Star Wars' Millennium Falcon, Han Solo's intergalactic ship.
After two months of planning and building, the miniaturized ode to the "fastest hunk of junk in the galaxy" was built to be precisely proportionate to Lego minifigs—that's Lego jargon for the little figurines that come in the toy sets. Measuring 3 ½-feet long, it's around 40 percent bigger than any official set sold by the toymaker.
© Titans Creations
Impressive, for sure. But it got me thinking about all of the stuff from the '80s I'd love to see Lego create. Here are five that would be worth more than their weight in Lego bricks:
Mr. Miyagi
From Karate Kid, Mr. Miyagi in that scene where he performs the crane kick perched atop a wooden post on the beach as Daniel watches and learns. Wax on, wax off, indeed, my friend.
Lloyd Dobler
From Say Anything, Lloyd Dobler standing defiantly in love outside Diane Court's home, displaying his devotion with the boom box held high above his head. Trench coat is mandatory, obviously. I wonder if they could rig the Lego version to play Peter Gabriel's "In Your Eyes." That would really do it for me.
Marty McFly
Lego used to sell a DeLorean toy set featuring Back to the Future's time-traveling, but even better would be a Lego minifig of Doc in his white lab coat and Marty McFly in all of his puffer-vest glory.
Madonna
I'd love Lego to immortalize Madonna in the lace bustier getup she wore in the 1984 music video of "Like a Virgin." All the better if the Lego version were mechanically motorized to gyrate in Madge's distinctive style.
Ferris Bueller
A Lego Ferris Bueller with a microphone, crooning to "Danke Schoen" and "Twist and Shout" on a parade float. Music and the Windy City skyline are a must. Let's immortalize Ferris and his pals skipping school. After all, "life moves pretty fast. If you don't stop and look around once in a while, you could miss it."
This article was originally published on