5 Amazing Black Friday Amazon Deals for Parents
by Scary Mommy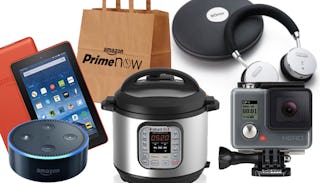 Looking for some amazing Black Friday deals delivered straight to your door? Look no further – we've compiled the very best deals for parents all in one easy place. Happy shopping!
1. The 7″ Fire Tablet. Get your kid the hell off of your phone and onto their very own tablet – for a mere $33.33 – 33% off. Outfit it with millions of movies, TV shows, songs, Kindle e-books, apps and games and get some much needed quiet time.
2. The Echo Dot. Want to bark orders and actually have them followed for once? Voila. "Alexa – play me some music!" "Alexa, order me some pizza!" No eye rolls, no heavy sighs and no blatant ignoring. All to the tune of $39.99 – 33% off.
4. GoPro HERO. The GoPro captures moments like no normal camera or video camera can – take it underwater, have your kid wear it taking their first steps or solo bike ride. You'll regret not getting it sooner, we promise. ($89.99 – 31% off.)
5. BÖHM Bluetooth Wireless Noise Cancelling Headphones. Block the world – and the kids – out with these kick ass headphones. ($84.99– 47% off.)
For those in a Prime Now eligible city, new Prime Now customers can get $15 off today and an extra $5 off next week and repeat customers can get $5 off today and an extra $5 off next week. Most of the Amazon deals are available on Prime Now, so you can add these discounts to the already discounted prices. Woot! Join here.
Editors may receive samples and/or a share from purchases made via links on this page.
This article was originally published on