If Your Introvert Tendencies Prevent You From Being Politically Active, '5 Calls' Can Help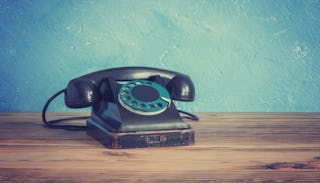 smiltena / iStock
It's easy to get fired up about the policies of the Trump Administration. There are the irresponsible cabinet appointments, like Betsy DeVos for education secretary. There's the announcement of the border wall, which Trump swears Mexico will pay for. To which Mexico says:
There's the appointment alleged white nationalist Steve Bannon to the National Security Council. Alternative facts. The Muslim immigration ban. The resumption of production on the Dakota Access Pipeline.
Many of us marched in the Women's March — over 4 million of us worldwide. But marching is one thing. What can we actually do to effect change in our government, to protest these unfair policies, to prevent these ridiculous appointments?
5 Calls has your answer.
5 Calls is built on a simple premise: Phone calls to representatives and senators matter. According to Huffington Post, Emily Ellsworth, who worked in Congressional offices for over six years, says that Facebook and Twitter are ineffective: "I never looked at those comments except to remove the harassing ones." There are tons of emails, and they become "overwhelming" to staffers. They can't read and respond personally to all the letters (which are, by the way, better than tweets and Facebook comments). But calling on the phone? They have to answer you, Ellsworth says. "That was a thing that shook up our office all the time." She says if they started getting a pattern of calls, they would call up the DC office and talk about it. Basically, phone calls are your best method of offering immediate, noticeable feedback to your elected officials. 5 Calls is here to help with that.
Most of us want to call, but we're at sea over what to do. Yell at our representative about Betsy DeVos? Call our senator over DAPL? 5 Calls asks you to enter your zip code, then offers a menu of issues to select from. When you click on an issue, you're given a person to contact (in my case, a senator), a phone number (for the DC office, not the local one). I called a senator about the Muslim ban; after that, I got the name of my other senator to call about the same issue. 5 Calls asks if you made contact with a person, left a message, or didn't get hold of them at all.
The genius of 5 Calls is this: It's tailor-made for us awkward people who hate talking on the phone. I always have a vague idea of what I want to say, but when a live staffer picks up the phone, I'm reduced to an inchoate stutter. 5 Calls stops that. Each call comes with an optional script you can use to make things a little bit easier. I found myself adding little things here and there when I used it, simply because I had a scaffold on which to hang them.
Last week, I called both my senators on the need to nix the border wall and not confirm Betsy DeVos as education secretary. I also called the Army Corps of Engineers about the reactivation of construction on the Dakota Pipeline. I never would have known who to call about that if it wasn't for 5 Calls. This week, I've called both senators about the Muslim ban, the silencing of government climate scientists, and the confirmation of Jeff Sessions as attorney general. I was astonished that the lines were often busy. I seldom spoke to a live staffer, and voice mailboxes were full. People are calling.
5 Calls works. As of Monday afternoon, people have used the service to make 202,000 calls to senators, congressmen, and others like the Army Corps of Engineers. That's a hell of a lot of calls made. That's a hell of a lot of Americans calling their legislators and demanding change — change from the executive orders issued by Trump, change that brings us back to the way our country should be. Tech Crunch calls 5 Calls "the easiest way to call your reps yet." So there's no excuse. Pick up your phone. Go to 5calls.org. And get on the business of change. Our democracy is needs all of us right now.
This article was originally published on