5 Lessons About Motherhood I Learned From 'Steel Magnolias'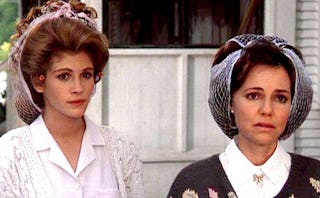 Twenty-five years ago, Steel Magnolias hit the big screen, and the women of Chinquapin Parish took up permanent residence in many of our hearts. Like every other woman of a certain age, I've seen Steel Magnolias so many times I can quote it by memory. The movie centers on the relationship between M'Lynn Eatenton (Sally Field) and her daughter Shelby (Julia Roberts), and has taught me and a generation of women some of the most important lessons about motherhood.
1. You can't control your children.
M'Lynn wants her control over daughter, Shelby, to be as firm as the "brown football helmet" she calls her hairdo. However, she learns—as we all must—that our children make their own choices and travel their own road no matter how much we wish they would just do what we say. We are all much better off taking the Truvy (Dolly Parton) approach and finding something—anything—nice to say about our children's choices. "Louie brought his new girlfriend over, and the nicest thing I can say about her is all her tattoos are spelled correctly."
2. Sometimes mothering is a team sport.
M'Lynn is Shelby's momma, but Truvy, Ouiser (Shirley MacLaine), Clairee (Olympia Dukakis) and Annelle (Daryl Hannah) drop everything to celebrate and support her through all of life's ups and downs. They not only support Shelby as she gets married, has a baby and ultimately falls ill, they support M'Lynn as well. These women understand that motherhood is hard and you need all the help you can get—even if that means signing up to get slapped!
3. You can sacrifice everything, and it will not be enough.
After Shelby risks her health to give birth to her son Jackson, M'Lynn donates a kidney in order to save her daughter. To give of your own body is the ultimate illustration of how far we all are willing to go to help our children. We would do anything, and the heartbreaking ending of Steel Magnolias showed us that, tragically, sometimes that isn't enough.
4. A sense of humor is required.
Sometimes your kids ignore your advice and bathe the church sanctuary in "blush and bashful." Sometimes your husband fills your Frigidaire with beer, or your dog loses all his hair. What the women of Steel Magnolias taught me was that no matter what comes your way, laughter can get you through it. Watching the full range of emotions exhibited in the movie's famous funeral scene is a powerful reminder that, as Truvy says, "Laughter through tears is my favorite emotion!"
5. Life goes on.
It is not an accident that Steel Magnolias begins with a wedding and ends with a birth—both scenes set in the bursting color of a Southern spring. When she tells her mother she's pregnant, Shelby states simply, "Sure there may be risk involved, but that's true for anybody. But you get through it, and life goes on." M'Lynn is repeating that phrase at Shelby's funeral when Annelle announces she intends to name her baby after Shelby. The worst can happen to us as mothers, but life goes on. We might look pretty, but we have to be made of steel.
This article was originally published on