5 Must-Read Books When You Are Pregnant
by Sarah Cottrell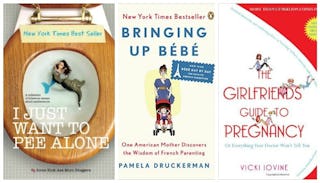 Walk into any bookstore in America and you will likely see pregnancy and early childhood books taking up a sizable amount of floor space. Between the 10,000 titles, how does a newly pregnant mom know where to start?! We've got you covered with these five tried-and-true titles that parents know and love. From the funny to the informative, these books will leave you feeling a little less nervous about those nine months, and definitely excited about parenthood.
I can credit this book as the sole reason why my kids sleep through the night and eat their vegetables. Druckerman, an American expat living in Paris, explores the ways in which French culture seems to be the perfect place to raise well-mannered kids. She balances the stark differences between American and French child-rearing while exploring day care, food culture, bedtime routines, and even playground politics. Chock-full of wit, tips, and wonderful anecdotes, American women will fall in love with how easy it is to implement the French method of child-rearing especially for teaching babies how to sleep, eat, and self-soothe.
This hilarious follow-up to the wildly popular The Big Book of Parenting Tweets is a perfect book to shove in your bag and have ready for all those prenatal doctor appointments. Featuring more than 200 pages of 140-character, bite-sized punch lines, you will laugh until you cry at the hilariously awful trials of parenting by Twitter's most beloved parenting comedians. Although this is easily read in a couple of hours, you will most certainly find yourself returning to the funny quips and jokes again and again.
During my first pregnancy, I received four copies of this book. By the time the last copy had been gifted to me, I felt like I had to crack the spine and find out what all the excitement was about. Vicky Iovine, a known and trusted voice in the world of pregnancy books, delivers an eye-opening guide to what you can expect your body to go through, without scaring the shit out of you like another book about expecting that we all know. She covers topics ranging from morning sickness to sex to labor to everything in between. This will be that dog-eared book that you find yourself telling all your girlfriends about.
4. I Just Want to Pee Alone by Jen Mann of People I Want To Punch in the Throat
If ever you buy a humor book on parenting, it ought to be this one! Jen Mann and her team of humor writers deliver sucker-punch laughs in this New York Times best-selling anthology. Chances are if you're a Scary Mommy diehard fan then you will recognize a number of the writers in this fantastic collection of humor essays that delivers in its promise not to hold back on the laughs or the raw truth of motherhood. Parenting is a tough gig, and these authors will show you that having the ability to laugh at the pitfalls of being a mom (or a dad) is what will save you. Featuring 37 essays, this is an easy book to devour in short bursts.
While most parenting books will give you a wide variety of tips on how to deal with babies eating, sleeping, and crying, this marvelous book by Plooji and Hetty walks you through the amazing world of a baby's mental development. By learning more about what causes a baby to cry—what is literally happening inside your baby's brain—you can have a better sense of empathy and a stronger understanding of how babies work and what you can do as a parent to promote a healthy and happy childhood.
This article was originally published on