5 Stages Of Pumpkin Picking With Kids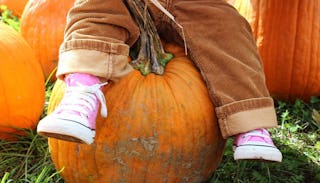 Theresa Lauria / via Shutterstock
It's that time of year again, suckas!
Dust off those red wagons and get $100 in Fast Cash at the ATM: It's time to take the kids pumpkin picking.
Here's how it's gonna go down, one stage at a time:
1. Denial, Numbness and Shock
You don't remember promising your kids you'd take them pumpkin picking.
You actually have a free day, so there's no good excuse not to take them pumpkin picking.
You find yourself en route to a farm with a red wagon in the back of your car, and you wonder:
How the hell did I end up doing this again?
2. Bargaining
You tell them if they're good they can each pick one medium-sized pumpkin.
But only if they are good.
If not, then you will end up wasting almost two hours of your day just to prove a point. So you hope like hell they are at least borderline good because this is family fun time, dammit!
3. Depression
The closest parking spot is one mile away from the farm entrance.
Upon admission, you realize you forgot the wagon in the car, so you will have to carry 45 pounds of pumpkins and a basket of unripe apples in your bare, sweaty arms.
I really hope this friggin' fruit isn't as expensive as it was last time.
4. Anger
OH MY GOD, STOP RUNNING THROUGH THE PUMPKIN PATCH.
NO, NO, NO, DON'T THROW THAT. OR EAT THAT. OR STEP ON THOSE.
THIS IS WHY WE NEVER DO NICE THINGS.
5. Acceptance
Well, I guess these pictures might work for our holiday card?
Wait—are those cider donuts?
(Chewing donuts) I guess it wasn't all that bad.
This article was originally published on