These 50 Baby Names Have Been (Literally) Outlawed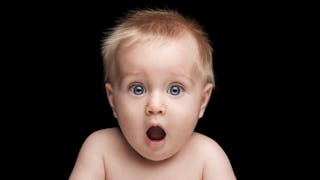 tommasolizzul/Getty
The government requires you to obtain a license to drive, own a gun, fish, hunt, teach, practice law, practice medicine, fly a plane, sell alcohol, get married and even to operate a forklift. Some lesser known things that require a license are breeding dogs, babysitting, having a garage sale, performing in public, building a garage, opening a lemonade stand, becoming a tour guide, or selling raw milk, Christmas trees and even pumpkins in some places.
But create, name, and have complete control over a human being? Open to anyone!
Imagine choosing a name for your newborn child that is so outrageous or mean that the authorities have to intervene. Here is a list of 50 names that people around the world tried to assign to their baby, only to be rejected by the government:
1. Martian (England)
2. Smelly Head (Malaysia)
3. Rogue (England)
4. Monkey (Denmark)
5. Devil (England)
6. Dickhead (Australia)
7. LOL (Australia)
8. Batman (Australia)
9. Ikea (Australia)
10. Snort (Australia)
11. Circumcision (Australia)
12. Spinach requested 3 separate times (Australia)
13. * (New Zealand)
14. Talula Does The Hula From Hawaii (New Zealand)
15. 4Real (New Zealand)
16. Anal (New Zealand)
17. 89 (New Zealand)
18. Mafia No Fear (New Zealand)
19. Cyanide (England)
20. Brfxxccxxmnpcccclllmmnprxvclmnckssqlbb11116 (Sweden)
22. Superman (Sweden)
23. Q (Sweden)
24. Peniskin requested 6 separate times (Sweden)
25. Terminator (Mexico)
26. Rolling Stone (Mexico)
27. James Bond (Mexico)
28. Christmas Day (Mexico)
29. Burger King (Mexico)
30. Nutella (France)
31. Anus (Denmark)
32. Pluto (Denmark)
33. Snake (Malaysia)
34. Sexual Intercourse (Malaysia)
35. Hunchback (Malaysia)
36. Insane (Malaysia)
37. Facebook (Mexico)
38. Rambo (Mexico)
39. Fat Boy (New Zealand)
40. Robocop (Mexico)
41. @ (China)
42. Scrotum (Mexico)
43. Fish and Chips (New Zealand)
44. V8 (New Zealand)
45. Bridge (Norway)
46. Grammophone (Germany)
47. Viagra (Russia)
48. Google (Sweden) Though as a middle name it's okay
49. Lego (France)
50. Sex Fruit (New Zealand) my personal favorite
However the following names were totally cool with governments around our globe: Gennah Tyles (think about that one for a minute), Like, MidnightChardonnay, Number 16 Bus Shelter, Violence, Little Sweet Meat, Orgasm, Melanomia, L'Oreal, DKNY, Abstinence, Olive Garden, Ssst, Rage, Peyote, Hashtag, Xerox, Sadman, Laxative, Flora Toilet, Fishy Scales, Leper, and Hairy Berry.
Most of the names mentioned in this article would be legal in the U.S. Naming laws vary state by state but usually, as long as the name doesn't have any numbers or symbols and is less than 40 characters long, it will be deemed acceptable.
These common U.S. names that are banned in other parts of the world:
Morocco: Sarah
Saudi Arabia: Sarah, Elaine, Maya, Linda, Lauren and Alice
Portugal: Catherine, Aiden, Ashley, Bruce, Charlotte, Dylan, George, Thomas, and Jenny
Germany: Taylor, Ashley, Riley, Morgan, Jordan
Denmark: Peter, Thomas
Iceland: Chris, Chloe, William or Jack
Hungary: Stephan
Naming a baby can be scary. If you want to explore some baby names that are not illegal yet, check out our new baby names page here.
This article was originally published on