At Least 50 Killed And 200 Injured In Shooting At Music Festival In Las Vegas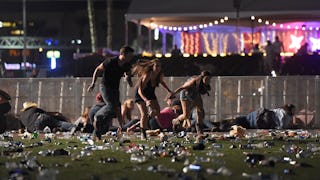 Image via David Becker/Getty Images
Worst mass shooting in modern American history
Last night, at a huge outdoor concert outside the Mandalay Bay Resort and Casino in Las Vegas, a gunman opened fire from a hotel window — into a crowd of concert goers. He was on the 32nd floor of the Mandalay Bay. The New York Times described it as a "rapid fire barrage of gunshots."
The gunman killed more than 50 people and wounded at least 400 others before SWAT teams found and killed him.
Country singer Jason Aldean was performing at the Route 91 Harvest Festival, an annual three day country music festival that draws thousands.
Sheriff Joseph Lombardo of Clark County identified the gunman as 64-year-old Stephen Paddock, a resident of Mesquite county. The police were looking for "a companion" named Marilou Danley.
"Video of the shooting captured nine seconds of rapid-fire, continuous bursts, followed by 37 seconds of silence from the weapon amid panicked screaming. The barrage of gunfire then erupted again in at least two more rounds, both shorter than the first," reports the New York Times.
Law enforcement reported they found several weapons in Paddock's room after using explosives to enter. Chilling video shows performer Jason Aldean running from the stage after gunshots are heard.
He managed to get to his tourbus, CNN reports, but the gunfire was still continuing.
Video footage from bystanders has captured people running for their lives as the shooter opened fire on the crowd. Horrifying. Absolutely terrifying.
"The site of the concert, the Las Vegas Village and Festival Grounds, run by MGM Resorts, sprawls over 15 acres and has a capacity of 40,000 people," the New York Times reports. "The festival's website said this year's three-day concert was sold out."
This article was originally published on