Wisconsin Students Are Marching Another 50 Miles To End Gun Violence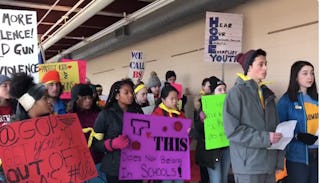 Image via Twitter/News3
The March For Our Lives isn't over yet thanks to 50 Wisconsin high schoolers
Saturday's March For Our Lives was awe-inspiring, but it wasn't the end of the conversation about gun control. That's the message that a group of Wisconsin high schoolers are hoping to send as they start a 50-mile march from Madison to U.S. House Speaker Paul Ryan's hometown of Janesville.
Yep, just when you thought you were done crying over these amazing kids.
The group of around 50 students plans to make the march in four days, walking about 13 miles a day and sleeping in local high schools along their route. They plan to reach Traxler Park in Janesville on March 28.
Their four-day march is representative of the four-day waiting period for gun purchases that they're calling to be enacted into law. They also want to make sure the conversation about their movement doesn't end now that the March For Our Lives is past.
"We know how easy it is for the media and politicians to move on from a tragedy created by gun violence," the 50 Miles More movement's co-founder Katie Eder said in a statement. "We have grown up experiencing school shootings followed by this inaction, and we refuse to let it happen this time."
At each mile, the students are tweeting out the name, age and story of a child killed by gun violence.
"We refuse to let Parkland be just another tragedy where kids get killed and then people in power move on with their lives, leaving behind only hollow 'thoughts and prayers,'" co-leader Brendan Fardella said in the same statement. "We are going to keep the heat on the people who have been elected to serve us, starting with Paul Ryan, who actually has the power to make legislative change. And if Paul Ryan and other politicians refuse, the youth of America will demand change at the ballot box this November and beyond."
And because they're still kids, they're making sure to inject a little joy into their extremely heavy cause — one they shouldn't have to fight for to begin with.
The students are calling on Ryan, who received nearly $172,000 in donations from gun rights groups just during the 2016 election, to stop taking NRA money and acknowledge the incredible work children, not adults, are doing to end gun violence. Ryan didn't say a word about Saturday's marches.
These kids want him to know his time is up unless he starts acting in their best interest. Here's hoping he finally gets the message.