A Woman With An Undetected 50lb Ovarian Cyst Was Told To Just 'Lose Weight'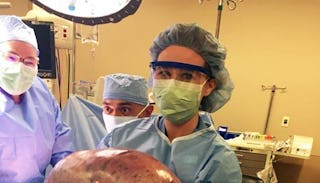 Image via Jackson Hospital
Can this 50-pound ovarian cyst be the reason we finally start taking women's health complaints seriously?
There's a real issue women face whenever they see a doctor. All too often, their health concerns aren't taken as seriously as they should be. Take, for example, today's viral news — a woman who had a 50-pound ovarian cyst removed after doctors told her to just "lose weight."
30-year-old Kayla Rahn, from Montgomery, Alabama, complained to her doctor about her abdominal pain and shortness of breath. She was gaining weight so rapidly, a stranger asked her if she was pregnant with twins.
NBC12 – WWBT – Richmond, VA News On Your Side
"I couldn't even walk to my car without losing my breath," Rahn told NBC 12. "I was trying to 'lose weight' for about a year — but I was gaining weight."
This all went on for months, during which time, of course Rahn went to the doctor. But did that doctor take her seriously or run any tests or do anything to get to the bottom of her alarming symptoms? Nope. She even got other opinions. No one took her seriously. Multiple doctors told Rahn she just needed to lose weight, despite the fact that she was trying to lose weight without any success, and also was in a lot of pain.
Are you seeing red yet? I am. Especially because this kind of thing happens far too frequently in women's healthcare. Writer Jeannine Hall Gailey, whose bleeding disorder took 15 years and a near-death experience to be diagnosed by doctors who routinely blew her off. And remember all the women who complained on Twitter earlier this year that doctors won't properly address their chronic UTIs? Yeah, this is a problem.
Rahn's increasingly serious symptoms got so bad she went to an emergency room, where someone actually ran some routine tests and discovered the source of everything: the 50-pound ovarian cyst she then had to have surgically removed. 50. Pounds. The cyst was benign, in the sense that it wasn't cancerous. But what about all those other problems it was causing? And the fact that it grew to 50 freaking pounds before a doctor even did any tests? WTF?
"The technical diagnosis: mucinous cystadenoma. It is a benign condition. This is one of the largest I have ever seen or certainly removed," says Gregory Jones, the doctor who removed the tumor.
Jones also described how the size of the cyst impacted blood flow to the lower half of Rahn's body, and said she was in danger of serious complications because of that. After surgery, though, she's expected to fully recover and go back to her normal, pre-cyst life.
Let this be yet another reminder to women that if your doctor isn't addressing your symptoms, make them pay attention to you. Or, better yet, get a new doctor.